Friday, February 18, the Italian Trade Commission in collaboration with UCINA (Italian Marine Association) organized a very special evening at Vizcaya Museum and Gardens to recognize the efforts of Italian companies and shipyards that have successfully promoted their products worldwide; the Nautical Design Awards.
Vizcaya, an Italian villa designed in the Mediterranean Revival architecture style, was built in the early 20th century for James Deering, of the Deering McCormick-International Harvester fortune, on Biscayne Bay. The location provided the perfect setting for Italy's most renowned industry leaders to be recognized for their achievements.
Marco Rocca, the Honorable Consul General of Italy, presided as Master of Ceremonies, and despite inoperable microphones, was gracious and charming in his introductions. He proudly made the point that an 8.6 per cent increase in sales has made Italy the leading supplier of yachts in the United States. Also present, Luisa Boccietto, President of IDA (Industrial Design Association) and President of the Nautical Design Awards Judge Committee.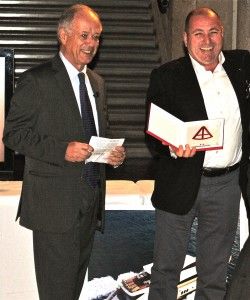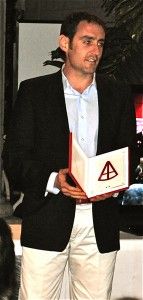 Dino Salvemini accepted an award on behalf of Mase generators, widely used in the United States and worldwide by shipbuilders, in defiance of a highly competitive market.
Massimo Radice accepted the award for Sessa Marine, a Milanese shipyard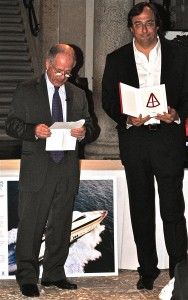 dedicated to competing with local shipyards in producing smaller vessels that boast competitive quality and Italian design.
The prolific Italian design company Nuvolari/Leonard received an award for achieving overwhelming popularity in the US market, which was accepted by Carlo Nuvolari. The company is perhaps most famous for their supremely

elegant Palmer Johnson and Marquis Yacht designs and currently have more than ten yachts in production. The renowned director, Steven Spielberg, purchased their newest Marquis yacht, so recently delivered in St. Barths it has not yet been advertised.
The Ligurian shipyard, Sanlorenzo, which founded Sanlorenzo in America, was awarded for successfully promoting "Made In Italy' in three U.S. locations. Massimo Perotti who accepted the award was exuberant when he declared, "we are at the top of the world!"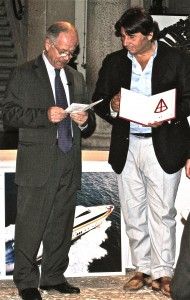 A reception above the renaissance gardens and below a full moon was a perfect conclusion to the prestigious ceremony, and lent a heady aura of La Dolce Vita. The gourmet Italian antipasto, pasta courses and deserts served to bring a truly Italian event to a sumptuous conclusion, as well as providing members of the Italian marine industry an opportunity to catch up with old friends and establish new ones.
Follow this link to view additional information on these and other Shipbuilders and Manufacturers.