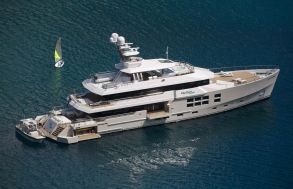 When the crew of luxury charter yacht BIG FISH heard of the plight of  629 residents in the tusnami-ravaged coastal village of Juan Bautista on Robinson Crusoe Island, Chile, their response was compassionate and immediate.
The island, formally known as Juan Fernandez, is most famous as the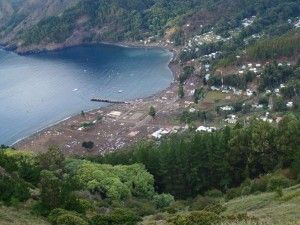 scene of the adventures of Scottish sailor Alexander Selkirk, marooned on the island from 1704 to 1708, and immortalized in Daniel Defoe's novel Robinson Crusoe, hence the present name.
Witnesses described the situation immediately following the disaster. "Everything that had been along that three-kilometer stretch just disappeared," said Fernando Avaria, the first pilot to fly over the area. "It was devastating, really out of a horror film," said Margot Salas, a local who toured the area with Chilean state television some 24 hours later.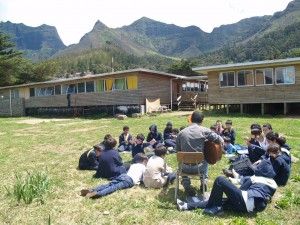 The island has been let down twice by their government. The first time was February 27, when a tsunami estimated at five meters in height, hit the island without warning of the onrushing wave that virtually flattened the town, destroying houses, government offices, church, businesses and the village's only school. After much finger-pointing between the Chilean government's Navy and its official tsunami-warning agency, the Navy admitted it relayed incorrect information in advance of wave.
The second failure has been the government's continuing inability to provide the villagers with sufficient aid to rebuild the community and its infrastructure. The tsunami killed an estimated 19 people on the island.
The islanders continue to await governmental assistance, and some aid is trickling in from private donations. The 148 foot luxury charter yacht BIG FISH, on her way from Fort Lauderdale to the Antarctic Peninsula for charter operations, stopped in Robinson Crusoe Island after learning of the villager's plight from Mark Drewelow, a former yacht captain, who is the founder and director of  Yacht Aid Global, a private organization dedicated to empowering visiting yachts to aid remote populations in their travels.
BIG FISH is an extraordinary new launch from Aquos Yachts with an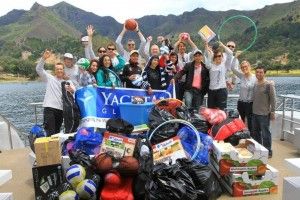 extraordinary crew. Captain Joyce-Clarke and the crew have their own grass-roots charity called Crew4Change. They immediately teamed up with Yacht Aid Global in the humanitarian relief effort. Crew4Change, which has successfully solicited numerous donations, agreed to purchase and distribute a variety of needed goods to the school on Robinson Crusoe Island. The gifts, totaling more than US$8,400, included laptop computers, printer, numerous school supplies, and sports equipment for the 150 children left without a school in the tsunami's wake.
"We are delighted to be participating with Yacht Aid Global in this important effort," said Richard Beattie. "BIG FISH was built to visit the most remote and pristine places of earth in safety and comfort," he said. "We want to leave all the places we visit in our travels as good, if not better, than before our arrival. Yachts are conspicuous for their size and beauty, and we must also help make them equally conspicuous for the benefit they can provide to the remote populations they visit. Just as we experience joy from yachting, we must also leave joy in our wakes."
Boatbookings recently visited BIG FISH and reported enthusiastically on the launch of this superb luxury charter yacht, designed for guests who are young at heart and yearn for limitless adventure in supreme style and comfort.
Please follow these links for Boatbookings.com additional information on BIG FISH and worldwide yacht charter Destinations.