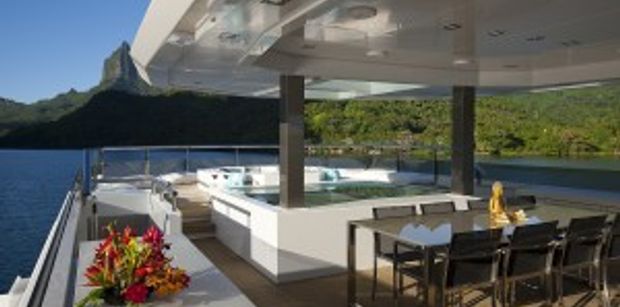 We're standing on the world's first granite decks. They are classically handsome and impervious to Jimmy Choos, non-skid yet sensually smooth, and we are told you can light a fire on them, just like at the beach, and the crew need only hose them down to clean them up. This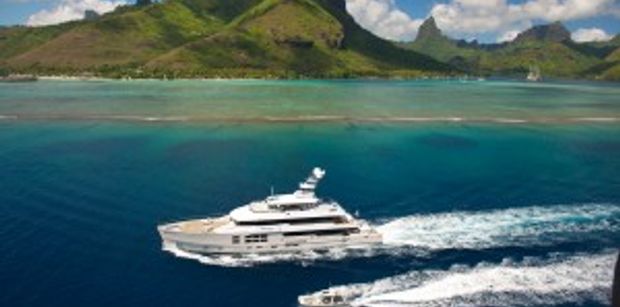 remarkable decking was just one facet of BIG FISH, the most innovative and distinguished vessel we've seen to date.
Boatbookings went onboard for a tour with Jim Gilbert of Aquos Yachts, whose passion for BIG FISH is easily understood. "This is a charter yacht for people who are younger, more active, or people who are young at heart," says Gilbert. "It's a boat to go places and do things that are different.
This boat may never see the Med, she's more at home in Tahiti, Antarctica, or through the Northeast Passage over the top of Russia, where we're heading this summer. BIG FISH will be the first yacht ever to do that. In between we're chartering in the Amazon, then we're heading to the northern islands of Europe and the Land of the Midnight Sun."
BIG FISH accommodates 10 guests and 10 crew, has a 10,000-mile range and enough storage facilities to be off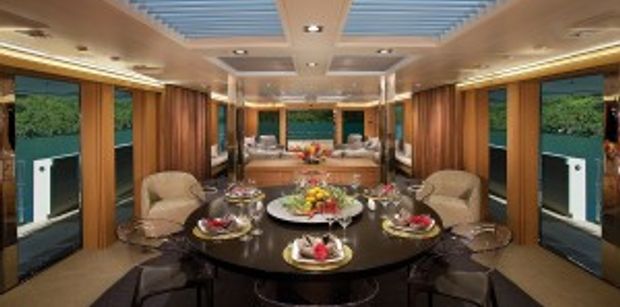 the dock for four months at a time. It is a yacht built to explore the world with all the luxury of an exquisite boutique hotel, right down to the finest linens.
Everything on BIG FISH is about adaptability and spontaneity. You can have your breakfast on deck, in the galley, upstairs, in the main salon, even on the observation pod, 43 feet above sea level, whatever moves you in the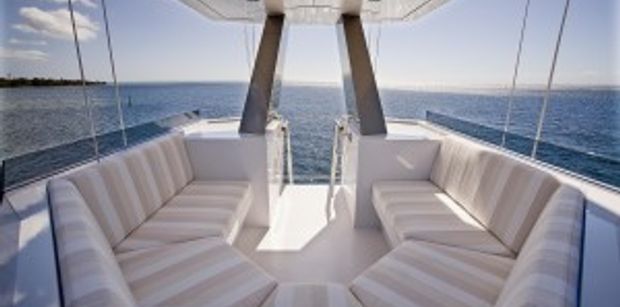 moment, whichever way the wind is blowing or the sun is shining.
The breathtaking owner's suite features a private half deck with sun pads that can be raised or lowered, or converted to a table. Four guest queens convert to two full-beam VIPs, perfect for families with children, exquisite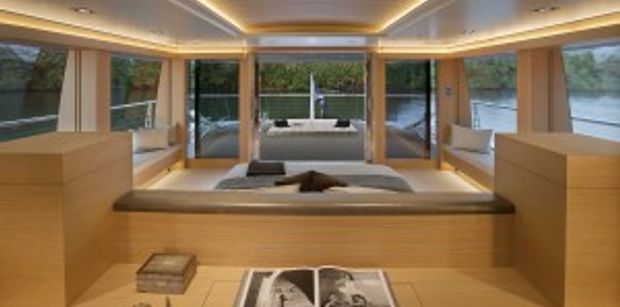 for adult couples. Even the comfortable chairs are collapsible. Other notable features include stern quarters that unfold down on both sides for lounging and safe water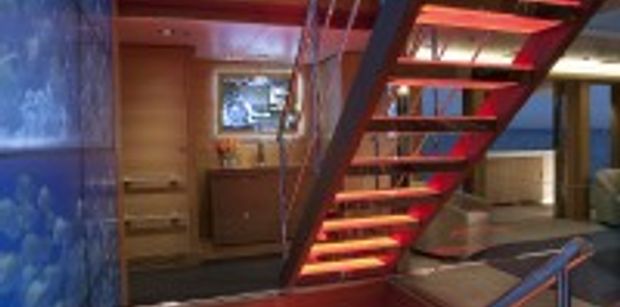 access, an atrium video screen that spans three decks and a garage that transforms to a disco.
"But the story about this boat is really the story about the tender," says Gilbert. "The owner was a long time charterer of superyachts. After several charters he realized he liked to dive, fish, explore, and ended up spending most of the day on the tender only to return to the yacht with sore knees, painful kidneys, tanks that fell on his feet. He realized that all the fun things he did were on a rib, which was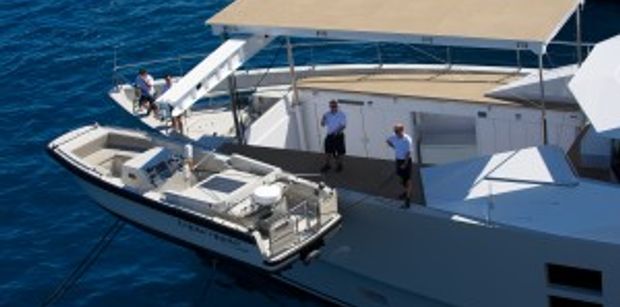 miserable. So he designed this fully tricked-out tender, it weighs three and a half tons, is fully fared, has a 200 mile range, jet drive, seats 12 people plus crew, all the dive tanks you need, outriggers for fishing, and there's a bathroom onboard. Then he went to Greg Marshall (Greg C. Marshal Naval Architects) and said build me a boat to house this tender."
BIG FISH is the end product of extraordinary vision and meticulous design. For the adventurous charter client, BIG FISH is simply unsurpassed. We will provide additional descriptions and impressions of BIG FISH, as well as the newest project under construction at McMullen & Wing for Aquos Yachts, STARFISH, in the near future.
Access Boatbookings.com for information on chartering BIG FISH, or to view an extensive selection of the world's finest charter yachts through this link: Super and Mega Luxury Yacht Charter