Despite ownership by a NASCAR investor, WHEELS is endowed with the elegance of a Bentley rather than the pizzazz of a Ferrari. When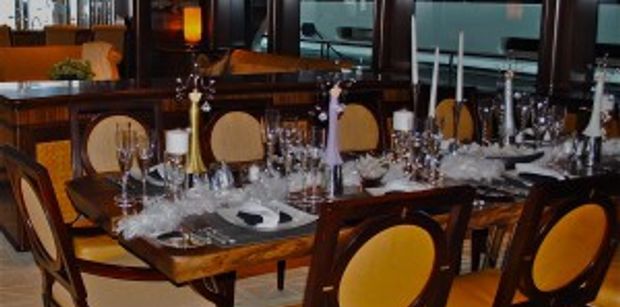 Boatbookings stepped into the main salon and formal dining area we were immediately impressed by the masculine, tailored style of design.
A blend of deep rich walnut and cherry woods, caramel leather upholstery and pale custom carpeting with a delicate geometric pattern, serve as integrating design elements throughout the luxury yacht.
WHEELS has an impressive 200-year-old Carolina walnut wood dining table that defines the formal dining area. Here up to 12 guests may dine in Old World splendor. During our visit we were delighted by the exquisite table settings so artistically arranged by the crew for the Fort Lauderdale International Boat Show Table Top Challenge competition.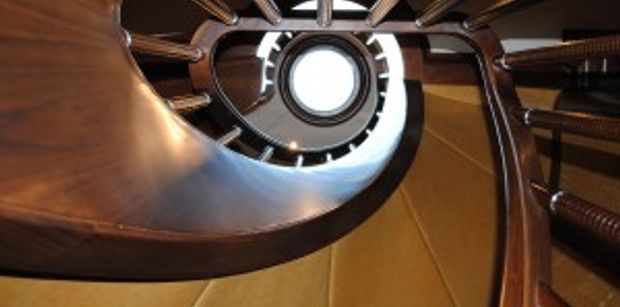 The skylounge deck of superyacht WHEELS also seats 12 guests at the custom made, high gloss round table. This area can be air-conditioned or heated, is equipped with surround sound, and beckons casual al fresco dining or an impromptu party. To connect all levels, an interior circular stairway topped by a skylight is notable as a stunning sculptural work of art.
The main deck owner's suite on luxury yacht WHEELS is designed to make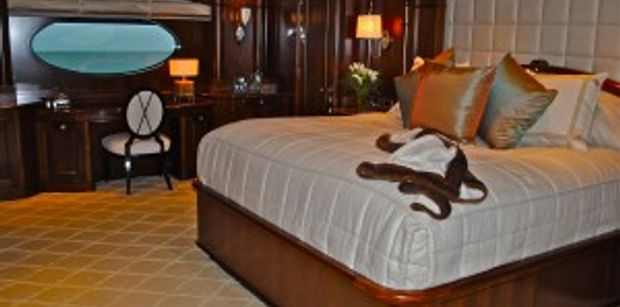 excellent use of the full 28-foot beam. Other guest accommodations include two VIP staterooms, one king guest stateroom and a spacious twin, each occupying the lower deck, and a queen stateroom located on the skylounge level.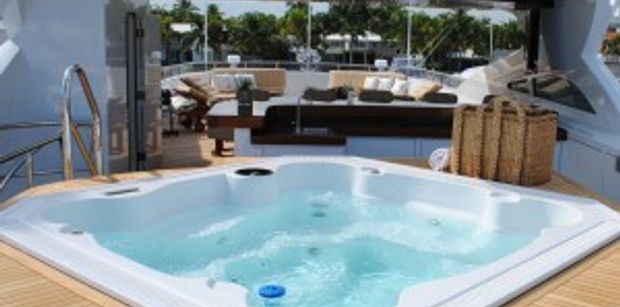 WHEELS is a stately yacht that will accommodate 12 charter guests in a very roomy setting. We feel that one of her many strong features is excellent circulation flow and appropriation of space, which allows everyone to socialize together comfortably. WHEELS is an excellent vessel for a corporate retreat or an extended family gathering with destinations in Florida and the Bahamas.
Boatbookings.com features extensive information on luxury charter yachts and destinations worldwide at Super and Mega Luxury Yacht Charter and Florida and Bahamas Yacht Charter.