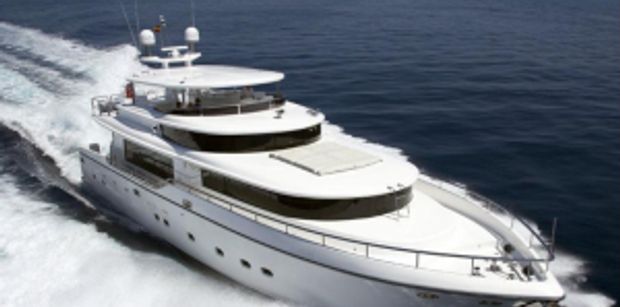 4MAL is an excellent charter yacht for friends and families that require elegant surroundings, a casual atmosphere, and a serious dose of fun. This deluxe 87-foot Johnson yacht is the perfect antidote for overstressed executives and everyone else that needs a vacation that combines pampering, partying and play.
4MAL features exquisite contemporary décor in a soothing color palette of earth tones that compliments an abundance of high gloss wood paneling and furniture. A delightful expanse of windows flood common areas with daylight and offer magnificent vistas.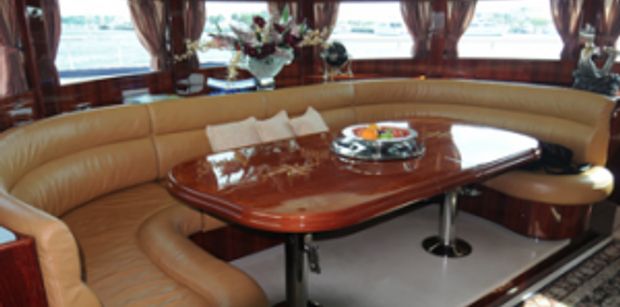 On 4MAL the main deck salon and formal dining arrangement is warm and inviting. Unobstructed by partitions, the area has excellent circulation as well as panoramic views. The unusually large galley is also an enticing place to gather. This room is a popular option from casual meals to midnight snacks enjoyed at the expansive U-shaped seating beneath an arc of forward facing windows.
Ensuite accommodations on luxury yacht 4MAL include a king master stateroom, VIP queen stateroom, a guest suite with double bed and a guest suite with twin beds. Plenty of built-in storage and first class amenities make these plush staterooms as practical as they are elegant.
From banquettes to barstools, 4MAL has an expansive flybridge with plenty of seating for the entire group. Additional seating on the aft deck provides a pleasant alternative for dining al fresco. Head to the swim platform to take a dip, launch an inflatable. or embark on a snorkeling adventure.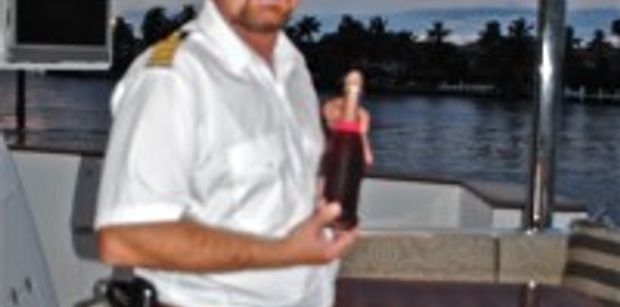 Should guests require anything, from pointers on the best reefs to tips on local entertainment, Captain Chris Edenfield, a native Floridian, has nearly inexhaustible insights and abilities. Besides his extensive experience as a charter captain navigating the waters of the Bahamas, Caribbean, South Florida, Maine and Mexico, and being an avid fisherman, surfer and diver,  with a degree in criminology, he claims to juggle, fire breathe, perform card and magic tricks, play the guitar and enthusiastically lead a sing-along. (He has an especially humorous pub song repertoire.)
4MAL offers guests all that is desirable on a charter yacht, elegant surroundings, seaworthiness and stability, and an accomplished crew that caters to the needs and desires of every charter guest. 4MAL frequents numerous destinations in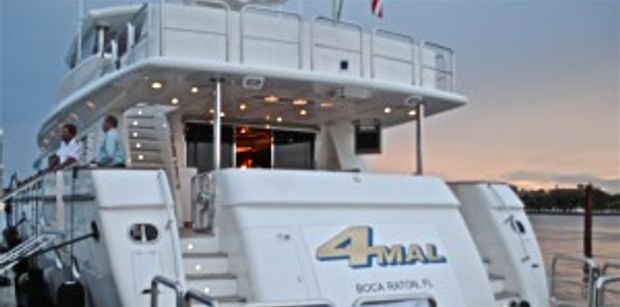 Florida and the Bahamas, from the well known to the virtually unknown, and is a superb venue for a truly personalized and rewarding yacht charter experience.
Boatbookings.com is an excellent online resource for charter yachts and destinations in Florida and the Bahamas. Follow these links 4MAL,  Florida and Bahamas Yacht Charter and begin your adventure!