Boatbookings.com recently had the pleasure of an onboard invitation to luxury charter yacht FORTUNATA, a Ferretti designed to offer charter clients an Italian-style yachting experience. This beautifully appointed yacht guarantees an unforgettably romantic getaway, yet is equally suited to fun with friends or family.
FORTUNATA was custom designed by her owners to be a yacht comfortable to live on. A direct line of sight between forward and aft decks creates a spacious first impression. Entering the main salon, built-in two-tone wood cabinetry and soft Italian leather couches surrounding a coffee table beg cozy conversation.
The forward dining area is set apart, raised by two steps, and is a lovely, private area to enjoy fine cuisine prepared by multi-talented chef Jessa Pereira. (According to Captain Graham Cove, she can also keep the boat in a pretty straight line.) Wonderful aromas issued forth from her kitchen-style galley that tempted all of us to linger a bit longer there.
Rich Italian décor characterizes four ensuite guest staterooms, each furnished with ivory silks and fine linens. Accommodations are for up to eight guests in the full-beam master, VIP queen and two twins.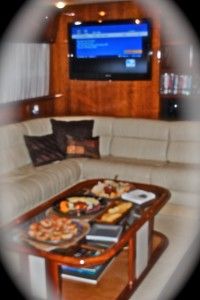 Spacious exterior areas on FORTUNATA beckon soaking up the sun or relaxing in the shade. Our favorite spot for great views and sun worship is the large sunpad located on the bow just forward of the helm. The aft deck features al fresco dining for eight and is particularly alluring at night when the sea appears magical, illuminated by underwater lights.
Personable Captain Graham Cove lived in the Bahamas for 10 years, has family there, and knows Florida and the Bahamas intimately. Because FORTUNATA cruises at a speedy 25 knots, with a mere 6-foot draft, the Captain, on a whim, can leave Key West at breakfast, cruise to explore the Dry Tortugas, and be back to catch the famous Key West sunset.
He also likes to drop a line off the back "because you never know when the mahi mahi or tuna might be running." The Captain thinks FORTUNATA is a great boat for families who just want to get away and have fun, and he knows all the best spots to do that!
FORTUNATA is a stunning Ferretti charter yacht with destinations in Florida and the Bahamas, and clearly the crew has plenty of insider tips to help create a personalized vacation experience of the highest caliber.
Boatbookings.com has numerous informative links to launch you on the adventure of a lifetime. Please see FORTUNATA and Florida and Bahamas Yacht Charter to get started.