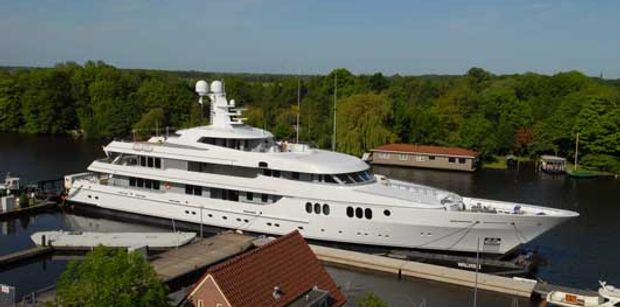 Designed by Donald Starkey, TRIDENT is another of our favourites this year! Beautiful woods and marbles, every exotic stone you've never heard of, customized mosaic in every bathroom to match the exquisite marble with fossilized shells. Beautiful details unite the overall theme of texture and grain, fabric and cut. The range of materials used was breathtaking: travertine, granite, sandstone, limestone from the Sahara and onyx, then Japanese ash, grey stained pine, chestnut, flamed mahogany, rosewood, flame cut whitewashed chestnut, lacquered Japanese sen and olive. Fabrics included silks, leather, batik and suede. Even the venetian blinds were made of hand-stitched leather!
There is also great use of light, with huge windows and sliding water paper screens in the cabins and dining room. Here the long table is set lengthways, exaggerating the feeling of space and luxury. Even the carpets are a cut above, with the packed solid pile of New Zealand wool that literally bounced under foot. It is an absolute feast for the senses, with beautiful artwork, paintings and sculptures throughout. The main salon has a huge circular white leather sofa in two halves, which slides on air, so can be configured to suit the occasion, including cinema viewing, when a large screen emerges from the ceiling where it normally remains hidden.
One final piece de resistance is the central elevator. It is built of book-cut , wire- brushed travertine, so as well as the sheer beauty of the stone, having chips of silver and gold in the amber mesh, a mirrored sill on the floor and ceiling creates the effect of a central column that continues into eternity above and below . If that's not enough, there is also great deck space, a gym, a Jacuzzi, and all the water toys you could wish for!