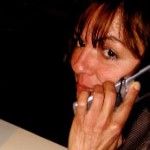 Regina Laqua, one of the newer members to the Boatbookings team, is the local charter representative for Sardinia, Italy.  She has lived on this beautiful Mediterranean island for  5 years and is constantly discovering something new and wonderful to share with others about this not-so-secret hideaway of the rich and famous.  Here are some of her impressions about yacht charter on the Island of the Emerald Coast.
Q – Sardinia is best known as the holiday-hot-spot for celebrities and the rich.  What makes it so special for you?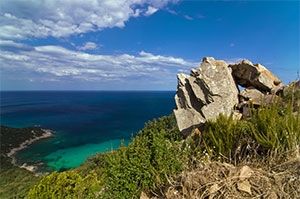 In a word, beauty.  Unique untouched nature, incredible scenery, and pristine waters and beaches are a large part of what makes it a special place to call home. Even though it's known as a celebrity hot spot, the vast majority of the island is virtually untouched and timeless.  I need also to mention the sincere friendliness of the inhabitants.
Q – How does it compare to other European island destinations?
Sardinia is truly unlike any other place in the Mediterranean " weather, water, wind all in the right places keep every type of yachting enthusiast happily coming back to Sardinia to discover more. The Emerald coast is legendary for exclusive experiences, on land or on board your yacht.
By cruising along the coastline under motor or sail, or by making an excursion inland, away from the glitz and glamour, you will discover that Sardinia remains surprisingly anonymous and you will find enchanting coves and deserted beaches as well as ancient villages forgotten by time.
Q – As you've described, Sardinia has been attracting the rich and famous for years. Has the economic crisis impacted the charter business?
Surprisingly no. Many charter seekers have kept their holiday plans intact. The wide variety of options through our partners give Boatbookings.com customers every advantage to enjoy their personal charter experience in this special place.
Also, the fact that the Italian government got rid of the luxury tax they had imposed on private yachts and jets (which was keeping people away), helped increase the numbers of the well-heeled who come here.
Q – What makes Sardinia such a perfect destination for any kind of yacht charter?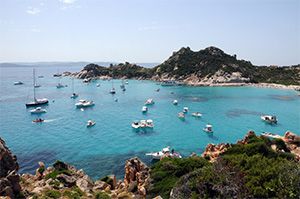 Sardinia's coastline remains uncluttered from high rise hotels and is an extraordinary sailing destination with hundreds of secluded coves, picture-book beaches and dramatic rock formations as well as numerous beautiful natural anchorages.
The excellent infrastructure of Sardinia's marinas, which have about 30 sea miles between each of them, provides for comfort at any time when cruising coast or exploring the islands.
It doesn't matter if you are on board a mega yacht or at the helm of a modest sail boat, you will always find a point on the horizon that begs to be discovered.
See our Sardinia Yacht Charter Guide for more complete information.
Q – What are the weather conditions like during a typical season?
Sardinia enjoys long warm summers with predictable winds and ideal conditions for the intermediate to more experienced sailor. The more constant winds along the north-eastern coast means that most sailors favour  the Emerald coast.
Two winds ensure the perfect conditions for dynamic sailing: The Chirocco, coming from the  South (Sahara) and the Maestrale (Mistral), which blows down from the North. The Maestrale mostly blows along the west coast, and is a very powerful west to northwest wind, while the south to southeast wind prevails on the east coast.
If you take on any sailing foray in Sardinia's waters you should either be a very competent sailor yourself or take an experienced skipper with you (which of course we can arrange!). It is also very important to familiarize yourself with the area's nautical literature and navigational requirements.
Q – What kind of Charter Yachts do you have, and where do people normally charter from?
The variety of yachts for charter in Sardinia is amazing – you can get anything from a water ski boat to a Super Yacht, Monohulls, Catamarans, you name it.  If you give us enough lead time, we can generally find just about any boat you need (things get a bit more difficult in July and August!).
We have yachts available from 15 ports, all over the island. The ports with the most yachts are Porto Cervo, Portisco and Alghero, but if you have a destination in mind, let us know!  Here is our up-to-date list of charter yachts available in Sardinia.
Q – Do you have a favourite story from a charter?
Well it's not a favourite story because my client wasn't able to really go on his charter, but it does highlight the love of the sea and the special friendliness of the Sardinians:
A Danish couple – he is an advanced sailor – booked and paid for a weekly  bareboat charter at the last minute.  Everything was ready and prepared, and the water and wind conditions perfect.
On the day of embarking I received a phonecall: the charterer had broken his arm on his way to the airport to catch the flight to Sardinia.  He had cancellation insurance but after our phone call the couple decided to come anyway instead of canceling, just one day later. They felt they would be in "good hands" with us and wanted to sniff the sea breeze. In the end they spent a very happy week onboard their  sailboat…  at base!… without sailing (but of course enjoying being in a lovely Sardinian port).
One day before disembarking the charter company sent a skipper onboard who took them out for half a day – free of charge. This is Sardinia and how people tick even if it is high season. By the way, the clients want to charter this boat again next year, but hopefully with 2 unbroken arms…