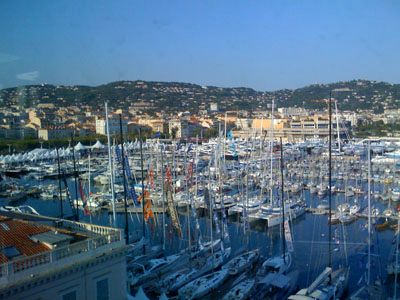 Boatbookings will be scouring the Cannes Boat Show this week looking for great new charter yachts, and seeing all the new models that are being launched. From the looks of the setup last night, the show should be hopping despite the recession. We'll keep you updated on any great new developments.
We're especially looking forward to seeing the Sunreef Power Cats – as we're seeing increasing demand for this type of charter yacht.
One recommendation already – the view of Cannes from the terrace bar/restaurant at the 1835 White Palm hotel (formerly the Sofitel) is fantatic! It's located at the west end of the Old Port, looking straight down on the boats. The views are gorgeous in all directions – which is why the bar is called 360 (this photo was taken from the terrace).
The restaurant is excellent (a full menu with all the trimmings costs EUR 55 plus wine) and it's away from the hustle and bustle of the show. If you need to track us down at the show, we'll probably be there!