Located on the Northeast side of Sardinia, the Gallurese coast is a charterer's dream – offering beautiful beaches and private coves tucked away amidst the lush green Mediterranean flora.  The renowned resort harbours of Porto Ottiolo, Punt Aldia, Porto Rotondo, Cannigione or Portisco, each offering excellent facilities, are the ideal starting point for cruising the famous turquoise waters of the Tavolara Sea Park, one of the most fascinating sailing regions of Sardinia.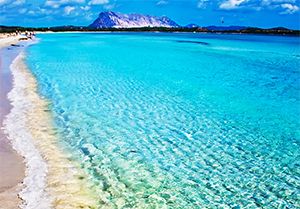 The main islands of this protected marine park are Tavolara, Molara and Molarotte.   Here you`ll find everything for a perfect day:  Anchor in the Tavolara bay, enjoy a beautiful beach and then have lunch on land, in the smallest registered Kingdom in the world.
For an authentic Sardinian beachside restaurant, try "Da Tonino" – which offers and extraordinary variety fresh seafood and pasta. You may actually be "royally served" by the family of the present King of Tavolara, His Majesty, Tonino Bertolioni!
The crystal clear waters of the park offer excellent snorkeling – make sure you set aside some time in your day to put the fins on!
If you visit in late July you can join the island's unique film festival – Cinema Tavolara, where the latest Italian releases are shown on a giant outdoor screen under the stars. You can often mingle with as cast, crew and other film luminaries there for the event.
Pulling anchor from this remarkable scene, set your course for Porto Taverna, 10 minutes away under motor, back on the main island.  Porto Taverna was one of the original resort destinations for central Europeans in the early 60's.  A beautiful, long stretch of pink beach reaches around the back of Capo Coda Cavalo.
Swim ashore or take your dinghy and discover "La Tavernetta" beach bar and restaurant, perched on a dune overlooking the Tavolara and beach below.  Ask for Pino or Fabio, who run the place and try their special tuna dish, or gorge on fresh mussels, clams and lobster.  The kitchen gained one "Gambero Rosso" star last year and the selection of local wines is excellent.  This retro-relaxed style restaurant with its fabulous view and easygoing atmosphere is really one of a kind!
Feel free to contact us for help planning an itinerary to this wonderful area of Sardinia, and be sure to read our Sardinia Yacht Charter Guide for information about chartering on this amazing Italian Island.