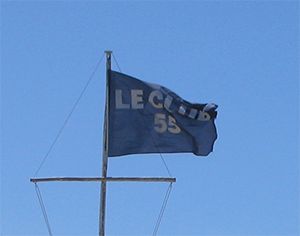 As mentioned in the first entry in the series, Club 55 is a classy beach club and restaurant that serves over 1000 meals a day in high season, although you'd hardly know it because the restaurant feels so intimate and relaxed. It is ground zero for celebrities in St Tropez, as well as well-heeled businessmen, politicians and models. If you're planning on lunching at Club 55, you should know how it operates so that you know what to expect and are not disappointed.
Club 55 is run by Patrice de Colmont, son of the original owner, who knows everyone and watches everything that goes on in the restaurant.  He somehow keeps straight where everyone will be sitting, making sure all the celebrities get their special tables. He is one of the most well known (and well connected) men in St Tropez, but he hasn't lost his passion for making sure his restaurant is serving great food and run with efficiency and class.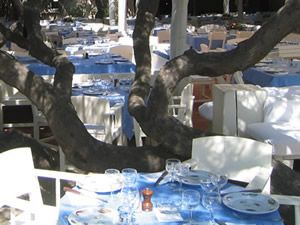 The restaurant is shaded by tamarisk trees, which keeps it cool during the hot summer.  The tables are simple white wood with chairs or benches for the larger parties.  Blue table cloths. All very simple and laidback elegant.  The menu follows suit – with many standard Provencal specialties such as baskets of fresh vegetables, plates of tiny shrimp, artichokes, steak tartar and an onion tart.  The main courses are predominantly fresh fish, normally grilled, served on large platters with excellent fried potatoes. The restaurant lets the ingredients speak for themselves.
There are two lunch servings – 1pm and 3pm.  Generally speaking, unless you "know someone" you will be eating in the second shift.  But this is not a problem, you have more time on the beach and the bar before dining, and then you leave on your boat happy and well fed for the trip back!  You should arrange for your lunch well in advance, and it's best to have your captain or broker arrange it for you.
Thousands of people visit and lunch at Club 55 each summer, and few are disappointed.  The combination of a relaxed but impeccably maintained beach club, excellently prepared dishes from local, fresh ingredients, a beautiful beach facing many of the world's most exclusive superyachts, and the celebrity buzz, makes it one of the primary destinations in the French Riviera.
We've captured a charter to Club 55 on this video, to provide a feel for the days experience.  Feel free to contact us for further details and a classy boat so that you can arrive at Club 55 in style!