Your author recently had the great pleasure of being on a charter – planned for over a year – to introduce 5 families, kids and all, to the wonders of the BVI.  In 8 glorious days our party of 27 people – 12 adults and 15 kids – sailed to all of the major islands and destinations and saw first hand the impact the BVI has on its visitors.  We also picked up plenty of information to update pages on the boatbookings.com bvi charter page and the yacht-charter-bvi.com site.
Over the next two weeks, I'll be doing a retrospective blog on the trip, to point out things we learned, things to do (and things to avoid), and other information that may be helpful next time you decide to charter a yacht in the BVI.
---
Planning the Trip
To begin, a bit of background.  Over a year ago our group of close friends began discussing holidays that would be perfect for all of our families together – husbands, wives and kids from 6 to 16.  Criteria were that the weather had to be warm and sunny, the destination both kid friendly and interesting for all, and we wanted a real adventure. As all of the adults were experienced on boats, we discussed whether it would be feasible to put all of our families on a charter together.  We wanted sailboats to give the families the experience of sailing, not just motoring, and we quickly agreed we would want catamarans for all the reasons they are so popular – they have great salon space for the families, offer excellent privacy so we could put two families on one boat, and they don't heel like a monohull so inexperienced sailors would be far more comfortable. After thrashing about the right sizes and configurations, and adding in the need for skippers cabins on each boat, we finally reserved two 5 cabin Voyage 500's and three 4 cabin Voyage 440's in Sopers Hole, Tortola through, you guessed it, Boatbookings.com.
This is what this impressive armada looked like when all lashed together in Cam Bay, Tortola: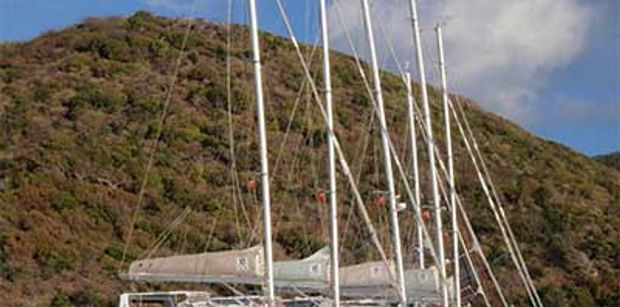 Flights
The next issue was flights.  It's no secret that getting to the BVI, especially from Europe, can be a challenge (one of the great advantages of the BVI is that it's not overly touristed).  American Airlines reduced the number of flights to the BVI from San Juan from 10 to 3 a day, which makes it difficult to find a flight for 27 people!  We finally booked all of our flights on Cape Air and bought low cost commuter passes which were much cheaper than the basic rate. So if you have a group of more that 5 people we recommend you buy commuter books through Cape Air for your next trip to Lettsome Airport in the BVI – it's about half the price.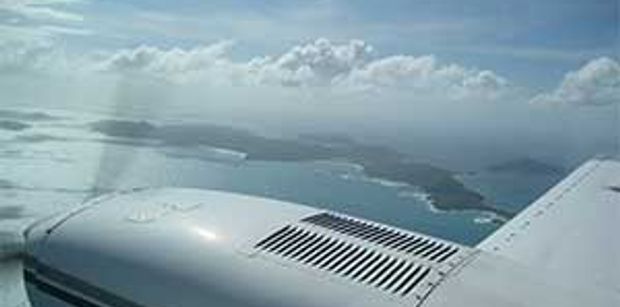 The Cape Air flight from San Juan to Beef Island is fantastic – it's in a 9 person Cessna and one child on each plane got to sit in the co-pilot's seat.  You see the coast of Puerto Rico, then the Spanish Virgin islands of Vieques and Culebra (pictured at right), and then St Thomas.
Soon you're looking down at Jost Van Dyke, seeing the gorgeous beach of White Bay and Great Harbor where Foxy's is found.  Next we  flew over Sopers hole and could actually pick out our waiting catamarans at the docks!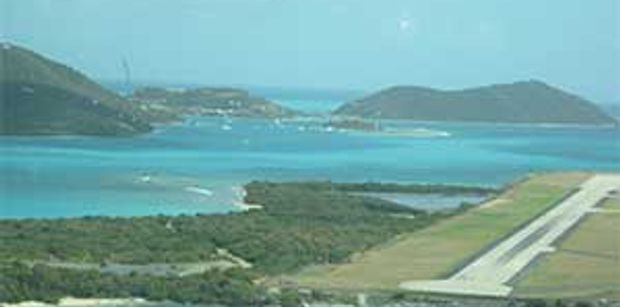 Then over the length of Tortola with views of all the islands that were to be our destinations, and finally to an exciting landing, with Marina Cay glistening in turquoise waters just behind.