Video Tour of Pemaquid, Johns Bay, Maine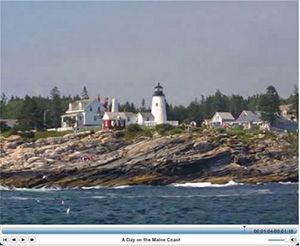 Video Slide Show, Pemaquid, Maine Charter
A perfect way to spend the day in Maine is to charter a yacht to view the beautiful, unspoiled scenery. Along the way you will see numerous lighthouses, thousands of lobster pots, and possibly seals basking on the rocks.
We've captured this day on the following animated slide show to give you a visual sense for this amazing day out!
Map of the itinerary
There are so many islands and areas to explore that this is only a broad suggestion for a day itinerary. Make sure you pack a lunch on the boat and stop for a nice picnic! If it's foggy, carry on and it's bound to clear.
Chartering a Yacht in Maine
If you'd like to charter a boat for the in Maine, our experts are happy to suggest the right boat and crew for your needs. Just click on the link below to see a selection of our yachts.
See our Maine Day Charter Yachts
Other Articles of Interest
Charter destinations