Southern Thailand Crewed Catamaran Itinerary
Discover Phuket, Krabi Province, Ko Lanta, Ko Rok and Ko Phi Phi on Your Luxury Yacht Charter
Overview | Day One - Phuket | Day Two - Ko Lanta | Day Three - Klong Dao Beach | Day Four - Ko Muk 
Day Five - Ko Rok | Day Six - Phi Phi Islands | Day Seven - Monkey Beach | Day Eight - Phuket
---
Map
---
Day 1: Embark in Phuket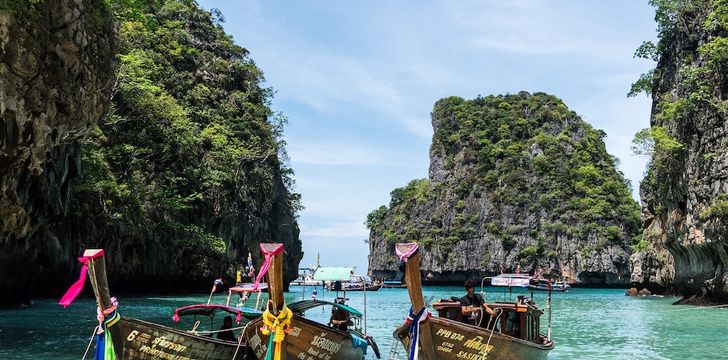 Embark at Ao Po Grand Marina and get comfy for your sail through Phang Nga Bay. Lunch will be served at Ko Hong, Phang Nga Bay. You have the option to Kayak into the Hong before lunch and then we would recommend motoring straight down to Ko Po Da Nok (Chicken Island) through the sensational limestone islands. Anchor to the north of Ko Po using one of the mooring buoys directly in front of Tup Island. Enjoy your first night aboard, sampling your chef's Tom Yum soup, Larb Gai and Thai Red Curry.
---
Day 2: Ko Po Da Nok to Ko Lanta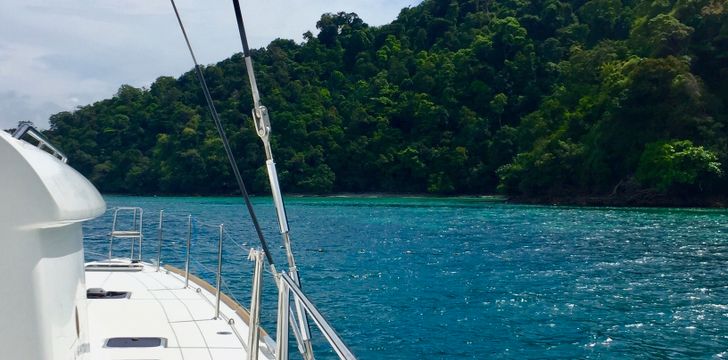 Enjoy an early morning breakfast, sampling the freshest tropical fruit and eggs cooked just the way you like them. Make the most of your water toys, especially the Paddle Board and Kayak to enjoy the deserted beach next to your anchorage. Enjoy a traditional Pad Thai Goong for lunch, served with a zingy Yum Woon Sen. After lunch, negotiate the Chicken's head rock formation before a lovely afternoon sailing past Ko Pu to your overnight anchorage in the bay of Klong Dao Beach, Ko Lanta. Enjoy the stunning vistas, sampling your chef's homemade Tod Man Pla, Yam Neua Thai Beef Salad and spicy Thai Green Curry.
---
Day 3: Water Sports at Klong Dao Beach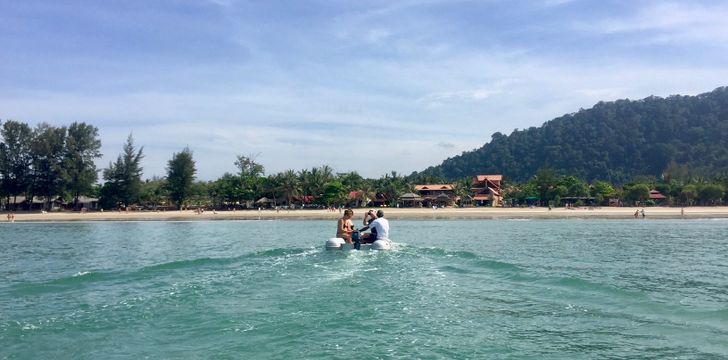 Calling all runners and fitness fanatics! Klong Dao Beach offers the perfect opportunity to run 5km before breakfast. Collect your guests and spend the day ashore, discovering Ko Lanta, sunbathing and swimming in the clearest waters found in Southern Thailand. Be sure to take your Paddle Boards to the beach as this is the perfect place for those looking to sample the sport for the very first time. Return to the yacht for Captain's cocktails, where you will enjoy a spectacular sunset over Ko Phi Phi behind you. For dinner, enjoy the freshest Yum Talay Seafood Salad, homemade Chicken Satay with Peanut Sauce and a hearty Massaman Curry. 
---
Day 4: Ko Lanta to Ko Muk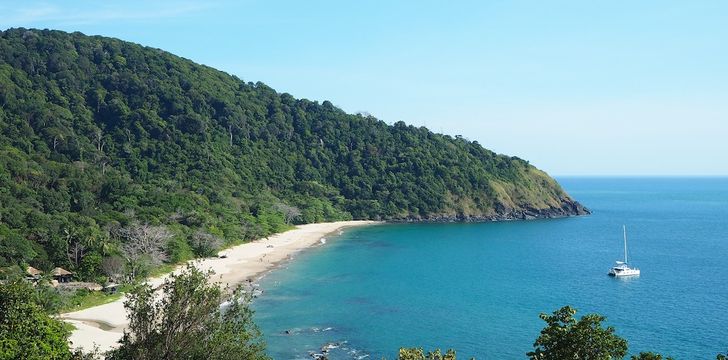 Enjoy breakfast and the wind in your sails as you head south towards Ko Ngai, a spectacular peaceful island offering long lost beaches that you have dreamed about. For lunch, tuck into a spicy Vermicelli stir fry with chicken and an extra serving of the fiery Tod Man Pla fishcakes. Once settled, take the Paddle Boards to the isolated beach on the southwestern tip of the island – don't forget your GoPro! Your anchorage for the night will be off the neighbouring island of Ko Muk; whether you anchor close to the famous Emerald Cave or the quiet bay on the southeastern side of the island, you will enjoy a very peaceful setting with great views of the mainland and south towards Malaysia. 
---
Day 5: Monitor Lizards at Ko Rok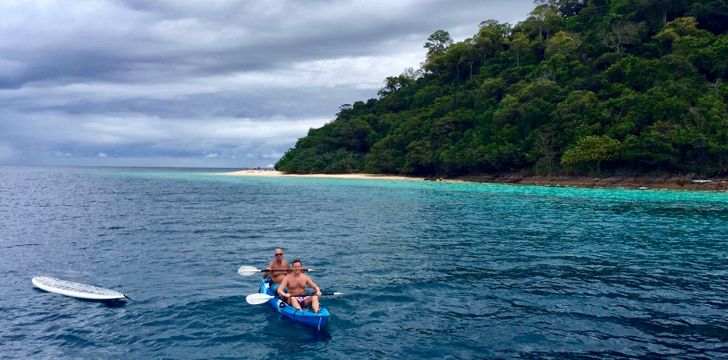 Discover the Emerald Cave early to see the wonder at its best before sailing south-west past Ko Kradan towards the spectacular Ko Rok. Ko Rok is the hidden gem of the Andaman Sea, offering turquoise waters, desert island beaches, spectacular scenery and wildlife, including the islands famous Monitor Lizards. We'd suggest aiming to arrive at lunch so that you can get a good mooring, enjoy the beach and get the best catch from the local fishermen. There is nothing better than Marlin on the BBQ for dinner with a fiery homemade sweet chilli sauce! Don't forget the Steamed Pork and Shrimp Dumplings, as well as a Sweet, Sour and Spicy Fried Fish! 
---
Day 6: Ko Rok to the Phi Phi Islands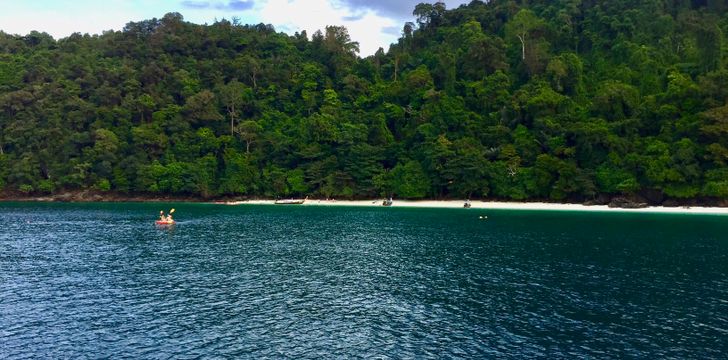 Enjoy an early morning walk on the beach of Ko Rok Yai before setting sail towards the 5 island archipelago of Ko Tu Kon Li Ma to have lunch, weather permitting. Alternatively, continue towards Ko Po for lunch. In the afternoon, sail to Phi Phi Leh, where you will find the world famous Maya Bay before anchoring overnight at the quieter Monkey Beach, Ko Phi Phi Don. Enjoy another spectacular dinner of Larb Moo, Barbecued Pork with the fiery chilli sauce, Chicken Satay and a stunning Red Curry Soup with Chicken and Pineapple - don't knock it until you've tried it! 
---
Day 7: Natural Beauty at Monkey Beach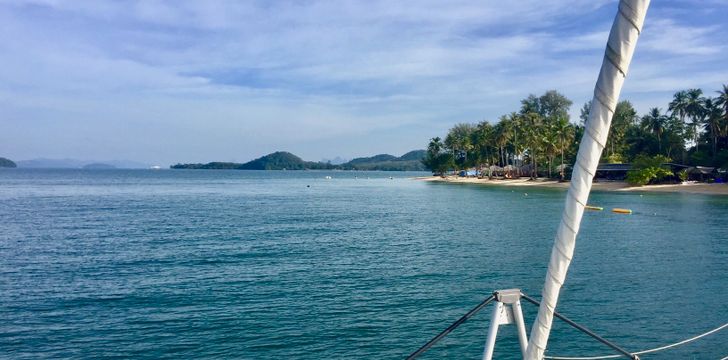 Enjoy the early morning at your anchorage on Monkey Beach, Ko Phi Phi Don. The setting is something special; pearl white sand meets crystal clear waters and a stunning backdrop of sheer rock and lush vegetation. After lunch, start sailing north towards Koh Yao Yai and onto Coconut Island or Naka Noi Island for your final night aboard. We know you will have loved your food all week and there is time for one last finale. Go out in style with a marinated Pork Larb salad, Beef Pad Ga Prao and a delicious Panang curry!
---
Day 8: Disembark in Phuket
Enjoy your last morning aboard before returning to Ao Po Grand Marina by Noon.
---
If this itinerary exploring Thailand's incredible beauty and exotic nature has hit the spot, simply contact us and one of our expert brokers will get back to you with a bespoke proposal!
Other Articles of Interest
Charter destinations