St Barts and St Martin Restaurant and Bar Guide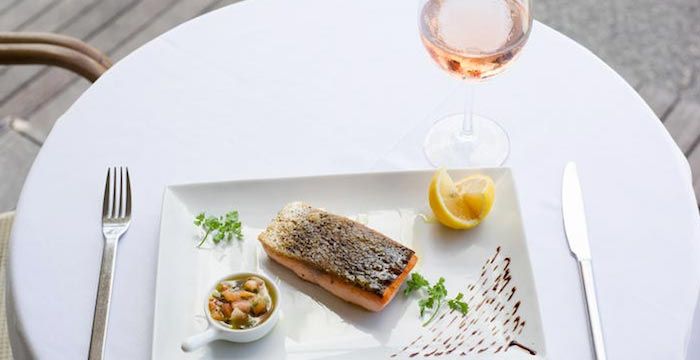 St Barts and St Martin Restaurant and Bar Guide
St Barts and St Martin are just two of the most desirable winter holiday destinations, great for those who are feeling nostalgic about their summer! With unbeatable beaches, tropical islands and friendly locals, it is easy to understand why this is a prime spot for luxury yacht charters. Here are some recommendations of restaurants and bars that our past clients, as well as us, have visited and absolutely loved! Our team have sought out the best restaurants offering a variety of fine dining to more casual, family atmospheres to suit everyone's preferences.
La Shambala (Grand Case)
Grand Case is a major event island so come and join the excitement! Embrace the sunny and organic ambience of La Shambala with the fancy food and décor providing the ultimate romantic setting. This is the perfect spot for a honeymoon because of the beautiful beaches and top class cuisine. Perched on the beach you can be sheltered by the palm trees, hear the ocean and spot the yachts floating by. This desirable location is so relaxed, the comfortable chairs allow you to gaze over the beach you sunbathed on today, whilst enjoying fresh seafood!
Bamboo (Maho)
Calling all Sushi lovers, this is your restaurant heaven! This swanky and sensual sushi restaurant attracts fish fanatics from far and wide because of the trendy Caribbean/Japanese fusion; you will be running back to Bamboo at any opportunity. Don't miss happy hour; their top-notch cocktails are guaranteed to put a smile on your face!
Bonito (St Barts)
Bonito is definitely the swankiest spot for dinner on St Barts that combines that Miami beach vibe with the laissez-faire Caribbean attitude. With a view over Gustavia Harbour and an open kitchen, Chef Laurent brings a new concept to St. Barts gastronomy- hints of his deeply rooted affiliation with Paris mix with American ingredients in dishes such as the spiny lobster risotto and sautéed Chilean seabass. Unique also in its setting, Bonito welcomes guests into a cosy beach house atmosphere that makes dining an even more pleasurable experience!
Pineapple Pete's (Simpson Bay)
A fun, family bar with 'the best lobster anywhere' according to past reviews! With exceptional service, fair prices and constant entertainment, the atmosphere in Pineapple Pete's is what any owner desires to have in their restaurant. Come for some surf and turf and allow the island ambience to capture you! Conch fritters, stuffed shrimp and every type of lobster is enough to make any seafood lover's mouth water, the portions sizes are generous and there is no need to worry about the dress code. Come to chill, eat fantastic food and enjoy the company of your friends and family.
On the Rocks (Eden Roc)
Eden Rock speaks for itself with its prestigious name, the stunning views of the ocean and corals reefs make for a sublime spot for lunch or dinner. The menu is innovative and sophisticated, we recommend arriving just before the sunset so you can sip your apéritif whilst watching the sun go down, for a truly spectacular sight. On the Rocks give you a real feel of island life; guests are known the travel the world purely to taste Chef Jean George's cuisine, renowned across the globe! Reviews have suggested this restaurant is 'the best of St Bart's', so if you are looking for a worry free dinner look no further!
Spiga (Grand Case)
Come to Spiga and have all your senses treated as the smells, tastes and sights of this restaurant are sensational. From homemade pasta to gastronomic surprises, you will find the dishes are as authentic as delicious. The cuisine is vibrant and colorful and the menu is creative and mouthwatering. Not to mention the staff's knowledge on Italian cuisine so they present and prepare to perfection! Here you can have a taste of Italy in the Caribbean to add a twist to your holiday, this restaurant has an edge due to the quieter location and multiple repeat customers, because of fantastic first time experiences.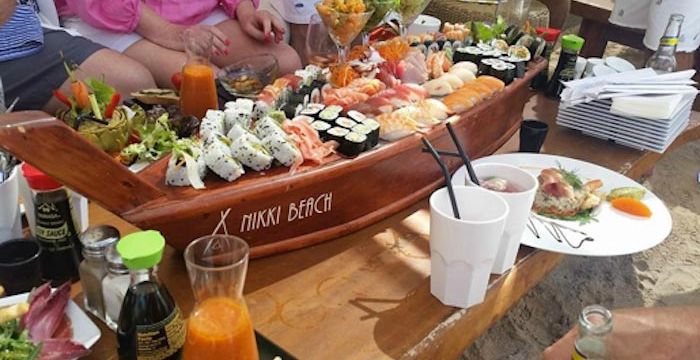 Nikki Beach (St. Barts)
We do not even need to explain why Nikki Beach is worth a visit as you have probably been, seen or heard about how fantastic this beach club is! Dotted all over the world, this is the place to see and be seen, and St Bart's is no exception. If beautiful people dancing on tables, lavish white sun beds and chilling with celebrities sounds like your idea of a good time then Nikki Beach is perfect. The atmosphere is electric, the service charming and the dishes are unique and varied. A reservation is a must, but leave that to us!
Temptation (Cupecoy Bay)
Give into temptation! With a majestic atmosphere and flawless food, our only comment is we hope they keep doing what they are doing! With tailored menus and special events this is a fantastic place to experience fun themes and captivating cuisine. Their motto is "Cooking is like love, it should be entered into with abandonment or not at all" which sums up the culture of the restaurant well. Temptation is likely to exceed expectations from start to finish, check out Rare their partner restaurant as well!
Orega
Seafood undeniably dominate the two islands in the Caribbean but you can also expect to find superb Asian flavours. French-Japanese fusion restaurant Orega, located in the heart of Gustavia is considered one of the best new additions to the local dining scene. Try dishes like confit duck or wagyu beef gyoza.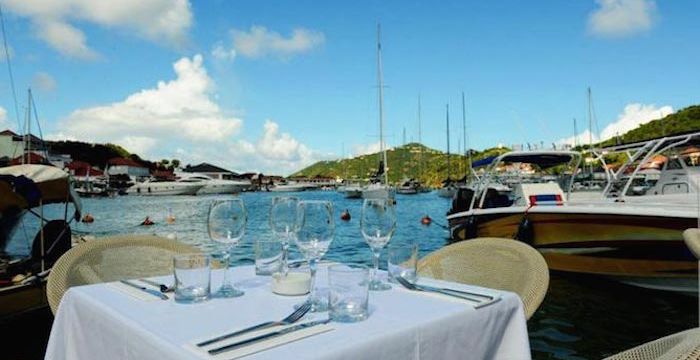 Bagatelle (St. Barts)
If Ralph Lauren and Blake Lively dine here, it must be impressive! With French authentic cuisine and a committed chef, Emmanuel Chavant who has been with the restaurant since the opening, it is obvious why countless guests fall in love with Bagatelle. Check out Jazz night, which has superb reviews and will put you in a relaxed and cheerful mood so you can dance the night away in Gustavia! Bagatelle is a great choice for celebrations due to the atmosphere and the impeccable service, you will never require a thing yet the waiters and waitresses will be close to invisible! Try the truffle pizza, it will blow you away…
Lee's Roadside Grill (Simpson Bay)
Guaranteed love at first bite! What we love about Lee's is that for a small charge they will grill/cook your catch for you, now where else do you know a place that does that? The public voted it as 'best seafood restaurant' for 6 years in a row that speaks for itself, as it is clearly where the locals come to eat. The vibe is casual and you can embrace the Caribbean culture by tasting the local dishes with the local people for an authentic experience.
Karakter Beach Bar and Café (Simpson Bay)
Imagine yourself surrounded by pale blue, glistening waters sipping beverages under palm trees. Welcome to Simpson Bay Beach! This sought after destination boasts Karakter Beach Bar and Café where you can embrace the Caribbean culture with salty hair, sandy toes and traditional food. This is a genuinely cool place to be! Karakter has won varied awards from best beach bar to best sandwich, showing that it is not just us who rave about it! This is a place where you aim to go for lunch yet end up spending the whole day here with the chilled vibe and friendly, professional servers.
If any of these superb restaurants appeal to you get in touch so we can start planning a memorable charter for you! In the meantime check out our St Martin itinerary so you can plan where you can wine and dine!
See our Caribbean Yacht Charter Guide
Key Caribbean Yacht Charter Destinations: St Barts | St Martin | BVI | Virgin Gorda | Leeward Islands | St Vincent and the Grenadines | Virgin Islands
Other Articles of Interest
Charter destinations