Mustique Yacht Charter and Top Charter Yachts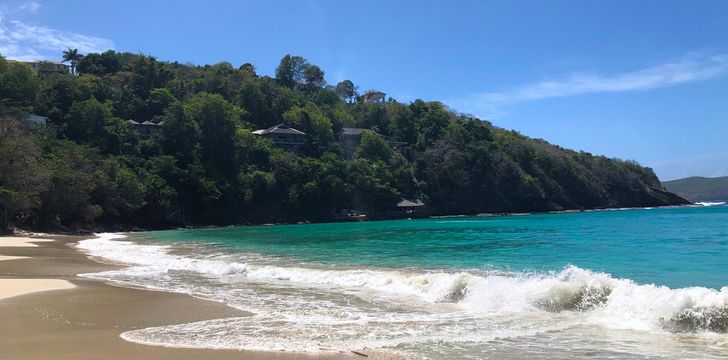 Boatbookings' Guide to Mustique Yacht Charter and our Recommendations for the Best Mustique Charter Yachts
Mustique is a private island in the Grenadines that is a famous low-key hideaway for celebrities, aristocracy, and families who want to enjoy the full fruits of the Caribbean without the hassles of modern-day life. Famously bought as a cotton ranch by Colin Tennant, a visionary and eccentric member of the British Aristocracy, for £45,000, who spent his life transforming it from "mosquito island" to an island with 100 stunning villas and a true feeling of community.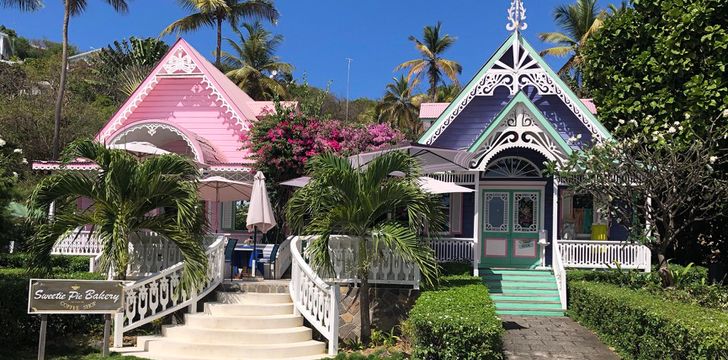 The island boasts a tiny airport where you can be dropped off just before your time of departure, a club where all islanders are invited for weekly backgammon tournaments and cocktail parties, one famous beach-side bar (Basils, see below), and many beautiful beaches where Princess Margaret, the Queen, virtually the entire royal family, and many household name celebrities have bathed in anonymity.
If you sail or cruise through the Grenadines, you will pass by this beautiful and exclusive island. You will need to have Grenadines entry papers, normally obtained in nearby St Vincent, and you can then moor or anchor in the one harbor, fittingly called Britannia Bay, in honor of the Royal Yacht of the same name that moored there when Queen Elizabeth first visited in 1977. A stay on Mustique normally would entail a day on "Princess Margaret Beach" (Les Jolies Eaux) or Macaroni Beach, a sunset drink at the Cotton House, and a night of Rum Punch and dancing at Basils Bar, with the possibility of Mick Jagger showing up and playing along with the band.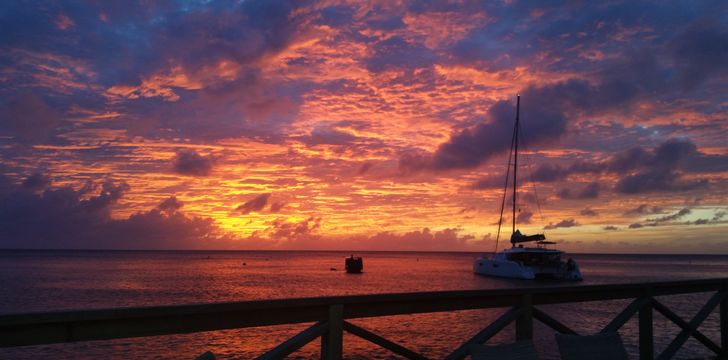 Attractions and things to do on Mustique
Mustique is a small island, measuring just 3 miles by 1 mile, and has just one small town that offers a grocery store, outdoor fruit and vegetable market, the "Sweetie Pie" bakery, and fresh fish caught daily. There are no hotels on the island (the Cotton House offers 12 exclusive rooms), no golf course, no tourist traps. And the islanders want to keep it that way.
Instead, the daily cycle runs something like this: walk or jog to get some exercise while air is still cool before a healthy breakfast of fruit and eggs. Then get in your "mule" (golf cart - no one drives cars here) and head off to one of the pristine beaches such as Macaroni, Princess Margaret, or l'Ansecoy. Lunch at the Cotton House, and then maybe some shopping at the two boutiques, and grab a donut or other treat from the bakery between them. Dinner on your yacht, or just straight to Basils for sunset Rum Punch, a local caught grilled fish, and then some dancing!
Here are some of the key attractions on Mustique.
Basil's Bar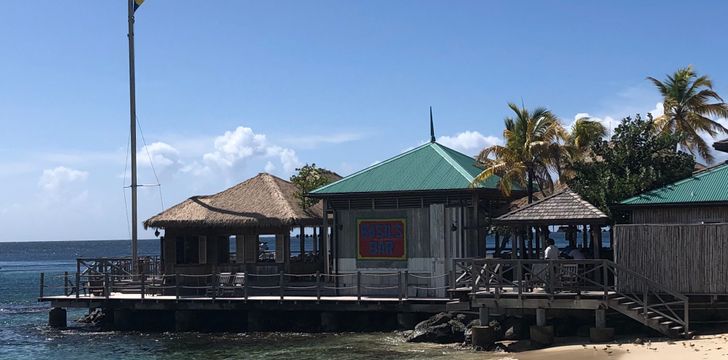 Basil Charles was famously found by Colin Tenant on the side of the road in St. Vincent after a motorcycle accident. Once he recovered from his injuries, Tennant took a liking to him and brought him to Mustique to run the Cotton House bar, the first on the island. Basil eventually started his own beach bar nearby and proceeded to build one of the best in the Caribbean, "Basil's" famous for its Wednesday night "Jump ups" and the Mustique Blues Festival. While Basil no longer runs the bar, he can frequently be seen there hobnobbing with the customers. Virtually everyone on the island visits Basils on a regular basis.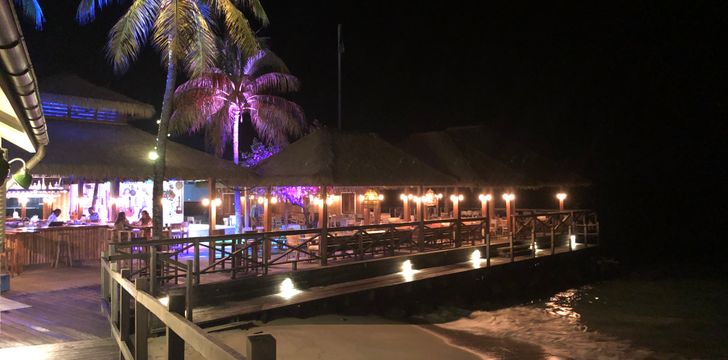 Basil's offers a good menu of fish and local Caribbean food, and hamburgers and pizza to please a broader taste. It is the local place to order a sundowner drink, just as Princess Margaret and Anne Glenconner did on many occasions. You may want to sample their "Mustique Whammy" Rum Punch made from unbelievably potent local St Vincent Rum. Plan to dance and stay awhile as Basil's transforms into a dance bar in the evening.
Princess Margaret Beach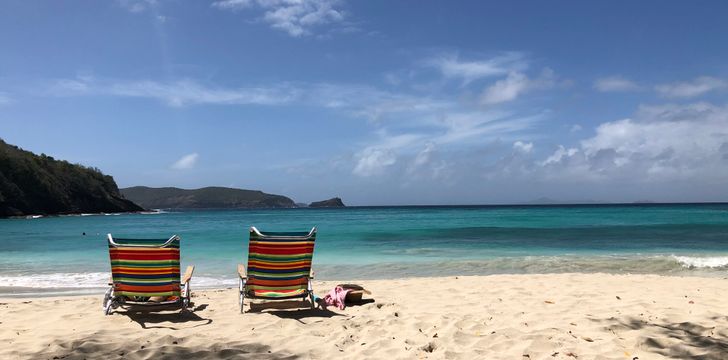 Princess Margaret enjoyed this beach because the "waters felt like champagne" and it was a short walk down from her villa. A small beach, it can be reached by a stone-paved path from the Lagoon parking area. It is protected and west facing, so waves are small, and the sand is clean and white. You can snorkel the small adjacent reefs, or maybe read "Lady in Waiting" written by Colin Tennant's wife Baroness Anne Glennonner, to learn about the fascinating origins of the island.
Macaroni Beach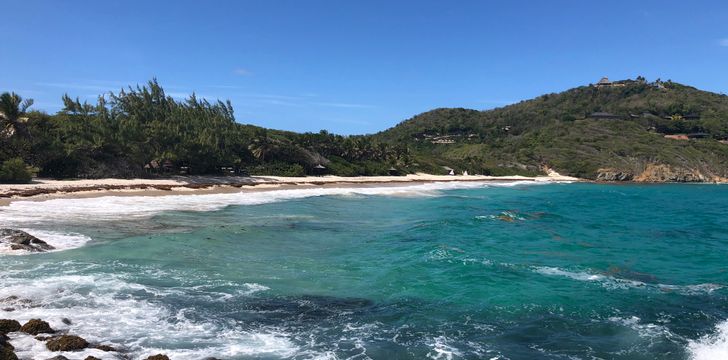 Macaroni Beach is the most famous on the island, is a scenic, curved white sand beach bordered by mangroves and the Mustique hills, and offers nice surf. People love having picnics here and walking on the path dedicated to Queen Elizabeth when she visited the island, you can see the royal seal on the path.
Cotton House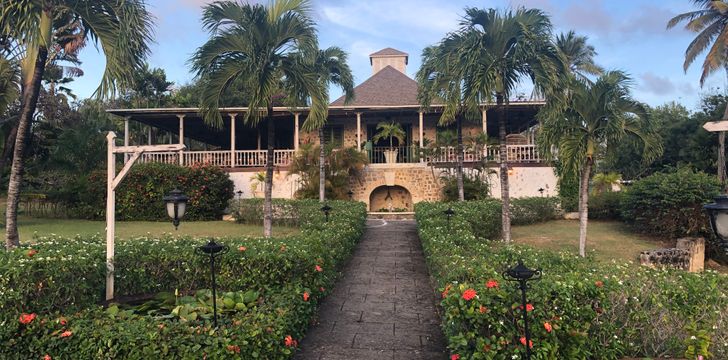 It is a stretch to call this a resort and the islanders love it that way. The Cotton House was converted from a Cotton Plantation into a relaxed club that offers a clubhouse bar, a beach restaurant, and several exclusive hotel rooms.
Mustique Top Charter Yachts
You cannot charter a yacht from Mustique, you would normally Charter from St Vincent and visit Mustique and the other famous Grenadines islands that include Bequia and Canouan. Most of the top yachts in the Caribbean are happy to sail or motor the Grenadines, we've listed our top selections below.
Other Articles of Interest
Charter destinations