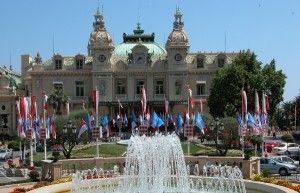 Monte Carlo and Monaco are, quite rightly so, mainly famous for the hairpin bends of the Grand Prix and the glamour and stylish architecture of the Casino. Nestled into the hillside near the Italian border, this tiny principality is an ideal place to spend a day or two when exploring the delights of the Riviera.
Sitting at the top of the hill and overlooking the port, the Palais Princier, the luxurious home of the Grimaldi family, is a stunning example of 18th century and Renaissance work. Surrounded by narrow alleyways and cobbled streets, this hilltop monument is a perfect place to while away an afternoon before returning back down the path to one of the many superb bars and restaurants scattered around Monaco for the evening.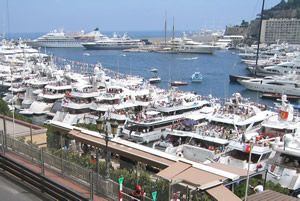 For those of you that fancy a flutter, the Casino provides ample tables and games to indulge. The strict dress code is in keeping with the opulent glamour of the gaming rooms, which feature stunning stained glass windows, paintings and sculptures, an experience in itself. Surrounding the Place du Casino you can find many places to indulge and spend your well-won prizes, with a range of top jewellers, couturiers and fine antique dealers all plying their trade within walking distance.
The charm of this picturesque state means that, during the summer months, Monaco can get busy and crowded however CARTE BLANCHE III, a Princess 72, is the ideal retreat. Accommodating 8 guests across 4 cabins (or 12 cruising) from 33,000 € per week, she is a joy to charter, with large panoramic windows allowing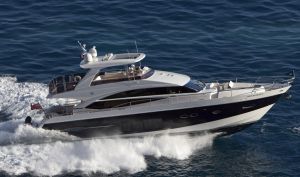 an influx of natural light. Recently built in 2012 with a modern interior, she has a sliding sunroof on the flybridge, making her a perfect choice for those who want to experience the delights of dining under the stars in good company.
Are you interested in chartering on the French Riviera? At www.boatbookings.com, we welcome everyone from sailing professionals to complete novices and will help you at every step of the way to make your dreams a reality. We have a team of highly skilled professionals who are extremely knowledgeable in their destinations and will be able to help you with any questions you may have.
Watch this space for the latest industry show releases, news and gossip in the yachting world. If you liked the content on this page and our previous posts, please become a fan and like our Facebook page to receive up to date information on our publications. Follow us on Twitter and Google Plus too.