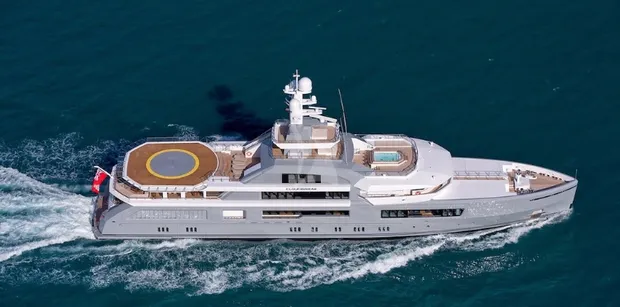 CLOUDBREAK is a unique and astonishing 72.5m Abeking and Rasmussen motor yacht – an easy choice for our superyacht of the week! On CLOUDBREAK, you will adventure beyond, experience more, and relax completely.
Whilst many yachts can cruise in Southeast Asia or Scandinavia, CLOUDBREAK goes off the beaten track and paves her way in new waters. In 2018, she is exploring Madagascar, a bespoke experience where you can witness amazing wildlife and feel true freedom. In 2019 she ventures to Norway and Sweden, which will open your eyes to extraordinary views of fabulous fjords and breath-taking scenery.
The minute you step onto the passerelle, you will experience incomparable luxury from start to finish. This 72.5m motor yacht offers fantastic exterior amenities so you can relax as you admire the mountains, greenery and waterfalls drift past. The outdoor daybed offers a luxurious and comfortable spot for relaxing in the summer breeze.
Head down after a delicious breakfast prepared by your talented private onboard chef and grab a sunbed with an immense backdrop of the mountains of Sweden or aquamarine waters of Raja Ampat, Indonesia. CLOUDBREAK also ventures to the Mediterranean, so you can replace the mountains with colourful fishing towns, sparkling beach clubs and secluded beaches if you please!
As with any luxury motor yacht, the water toy selection is endless! From Seabobs to Kayaks, Kite Surfing to Fishing, whatever takes your fancy the crew will kit you out and give you a helping hand.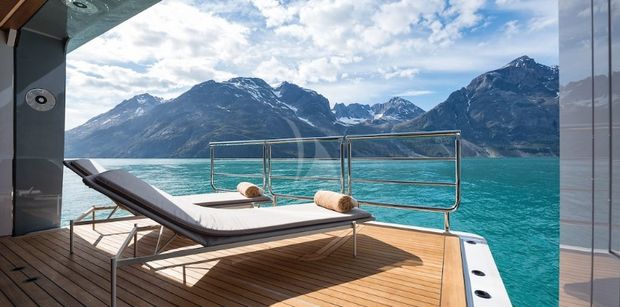 After an exciting day on the water, retire to your cabin for a heavenly nights sleep! When you awake, your first sight will be the dazzling ocean and beautiful anchorage where you settled the night before. To add to the therapeutic environment on board, CLOUDBREAK offers a sauna and pool so you can unwind and feel pampered! Yacht charters are the ultimate wellbeing vessels, where the crew and amenities will work tirelessly to ensure you feel healthy and happy.
To charter CLOUDBREAK for your next adventure, contact one of our expert brokers and get a bespoke proposal today. Charter this stunning superyacht today in Scandinavia, followed by the Mediterranean and Southeast Asia including Papua New Guinea and Indonesia. Charter rates start at €750,000 plus expenses.