Water Toys are fast becoming an essential item on your luxury yacht charter. Starting with simple snorkel gear to speeding jetskis, the water toys available to you are becoming more and more exciting.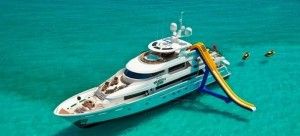 The Freestyle Cruiser is an amazing slide, custom made to fit the yacht that it is intended for.  The slide is an exhilarating drop down from the top of your yacht – the quickest and easiest way to get from your yacht and in to the water. A Freestyle Cruiser is like having your own on board water park, with plenty of open sea to enjoy it with, and no strangers to get in your way! A yacht slide is fun for everybody, regardless of the age.
Made with the finest materials and craftsmanship; made with the highest grade vinyl for durability the Freestyle Cruiser is welded with state-of-the-art technology. With all the hard work that has gone in to creating this slide, it is without a doubt a brilliant investment for any yacht. A slide of this size and drop will surely guarantee fun. If you are interested in a yacht with a water slide, why not charter AMARULA SUN? This Westport has a great range of water toys, including a slide, perfect for splashing around in the Mediterranean Sea!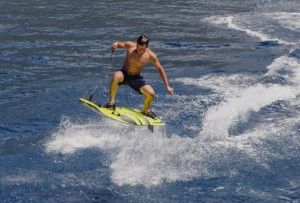 The Jet Surf is a combination of a surfboard and technology. A lightweight carbon board that can travel at 55 kilometres per hour, you don't need waves for this style of surfing.  It took 7 years of development, but was definitely worth it for the end result. Similar to a skateboard, you can do jumps and tricks for up to 4 hours before the battery needs recharging. The Jet Surf is a brilliant invention for whizzing across the water, and has proved to be such a hit that there is now such a thing as the Jet Surf World Series – pushing the Jet Surfs to their limit. With a Jet Surf around, who needs tenders and water skis? They will definitely make a fantastic addition to the water toys on any luxury yacht!
If you would like to receive more information with regards to booking your luxury 2013 charter yacht, please enquire through our website, www.boatbookings.com, where one of our Charter Specialists will be happy to help you plan the experience of a lifetime. You can also send your charter enquiries to [email protected], and one of the team will get back to you shortly with some proposals.
Watch this space for the latest industry show releases, news and gossip in the yachting world. If you liked the content on this page and our previous posts, please become a fan and like our Facebook page to receive up to date information on our publications.