Are you looking to host your event, whether for business or pleasure, in Cannes? How about getting a berth in Cannes in the prime location? If you are interested in obtaining a Berth at Cannes right next to the Palais des Festivals, along the Jetée Albert Edouard, Boatbookings can help you.
There is a very specific process to follow when you apply for a berth in Cannes, no queue jumping allowed! Everybody has to follow the same rules when submitting a berth application – whether you're famous or not, it's all done in the same way. The berths at Cannes work on a first come, first serve basis; you need to plan ahead in order to get the best spot. In order to apply for the berth, you are required to chow the charter contract, company documentation, yacht license and documentation, and fill out an extensive application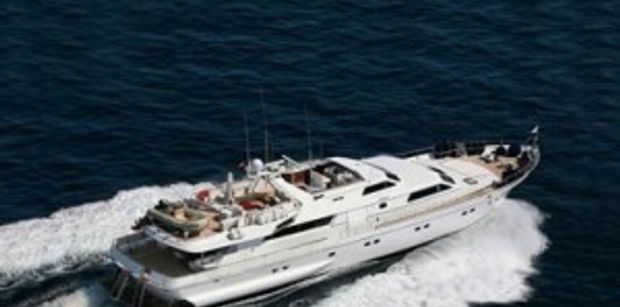 form. This all then needs to be delivered to to Capitainerie (Port Office) and must be in perfect order otherwise it will be rejected – detail is key.
Boatbookings has years of experience getting berths for our clients during shows such as MIPIM, MIPCOM and, of course, the Cannes Film Festival. We would be more than happy to find you the perfect charter yacht and submit the berth application! As you can see, you need to be ahead of the game to obtain a berth, prepared with your charter yacht and ready to go, so charter with Boatbookings today.
One of our favourite yachts for event charters on the French Riviera is this Spertini Alalunga, ANTISAN. With a capacity of 70 guests at dock and 40 at sea, she is perfect for your Cannes event charter, be it a business meeting, evening cocktails or birthday party. ANTISAN has sprawling decks and spacious interiors, there is plenty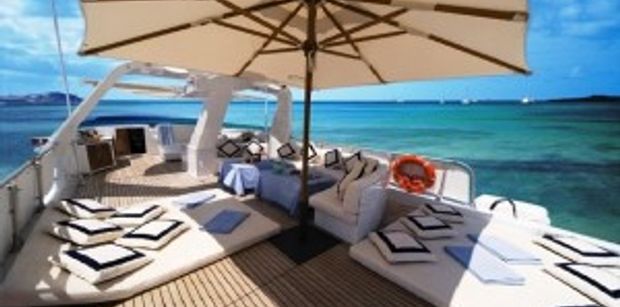 of room for you and your guests on board without it getting busy.
ANTISAN's interiors are neutrally decorated, fitted out elegantly with furniture in walnut and expertly matched pastel coloured fabrics. The living area has a spacious sitting-room with plasma TV and BOSE Sound System, which is great for putting on some background music while entertaining your guests, and a separate dining room. Outside on deck, ANTISAN affords a large cockpit astern with a table for 10/12 guests, while forward there's a spacious sun-deck. The enormous upper deck is certainly another of ANTISAN's strengths; here you can lie on a large sun-deck or sit on the comfortable sofas in the shade of the bimini, which is also perfect for dinner under the stars.
At www.boatbookings.com, we are here to help you plan your perfect luxury yachting holiday. We have a team of highly skilled professionals who are extremely knowledgeable in their destinations and will be able to help you bring together the yacht, the crew and all the other aspects that make your charter special.