Angra Dos Reis is quickly becoming one of the most talked about yachting destinations on the planet, graced with a fantastic climate, beautiful anchorages and some of the best beaches around. Located 150km south of Rio, Angra dos Reis offers 365 islands to discover with over 200 beaches, making her the ideal destination for sun worshippers. However, Angra has more to offer than just a beautiful beach with some of the finest Brazilian cuisine, ecological walks in the rainforest and even shopping. Therefore, Angra really does have something for the whole family and it is no surprise that it is becoming one of the up and coming holiday destinations.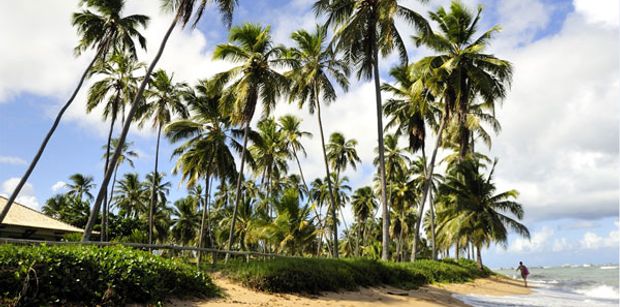 Ilha Grande or the Big Island is sparsely populated and is renowned for offering 192 square kilometres of vegetation and forests that are waiting to be explored. The island is steeped in history since the 1500's, like many other European colonies with stories of pirates, treasure, slavery and smuggling. The true paradise of this area lie with the crystal clear waters and untouched beaches. The coastline is truly striking and can be appreciated the most from the water, making chartering a luxury crewed motor boat or catamaran a great idea. Lopes Mendes has one of the finest white sandy beaches and Preta beach has dark monazite sand, which shows the diversity present in Brazil. If you want to be seen, head down to Dentista Beach where you are likely to find around 100 boats on summer weekends partying in the search of spotting a Brazilian celebrity or two! Did you know? In the summer, the island of Ilha de Caras attracts the largest amount of famous people per square metre in Brazil.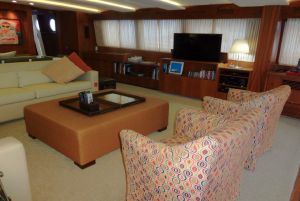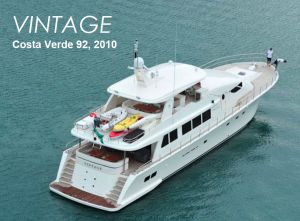 One of our favourite crewed luxury motor yachts is VINTAGE which is berthed in Angra dos Reis, making her an ideal choice for chartering around the islands. This crewed motor yacht is ideal for both friends and families, offering vast amounts of space to entertain and socialise. Her interior is elegant and minimalistic while her cabins  offer great comfort. Captain Mario is vastly experienced and is the perfect man for showing you the natural beauty of the area and the best local spots to swim, sunbathe and explore. Make sure you make the most of VINTAGE and her water toys which are perfect for keeping the kids entertained, leaving you to enjoy a good book on the aft deck.
There is no time like the present to visit the unspoilt Brazilian coastline. To enquire about chartering your own motor boat, sail or catamaran, please enquire via our website or send an email to [email protected]. We would be delighted to help you organise an experience of a lifetime.