The future of the tender is here! An 'inflatable island', which has been designed using the same material from Richard Branson's hot air balloon in his round-the-world flight is about to be brought into construction. Designers in the superyacht market have followed the trend of high end hotels and brought the model to the yacht market, adding bespoke features such as removable teak decking. "This is a very new product which is just being released to the yachting community and the interest is high," said Josh Richardson from Superyacht Tenders and Toys. Gone are the days of old fashioned, unreliable tenders, which leave guests trying to stay dry!
Superyacht Tenders and Toys are undertaking the project, which is to be based on the new sea cabana model. In addition to the standard features, such as the sea pool to keep out jellyfish and a lounging area, the tender can be fully customized to your taste and requirements. These can include two ice buckets to keep drinks refrigerated, underwater lighting, as well as the client being able to choose the outer colour of the shell.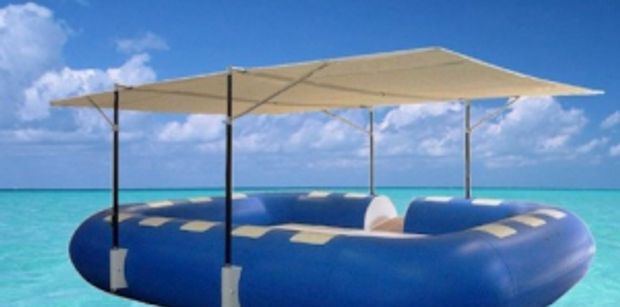 You may be wondering why everyone is getting so excited about this concept and why it is necessary? This product is able to offer something that others cannot. It provides guests the chance to pull up extremely close to the shore line for their dinner reservations. Moreover, it provides a relaxation area away from all ambient and engine noises of their yacht. You can truly find yourself at one with the ocean! The 'ultimate in luxury' sea cabana comes in two sizes: medium (4m by 5.25m) or large (4m by 7m), which can accommodate up to 20 passengers. It can be inflated in 15 minutes, towed at low speeds behind a tender and anchored separately from a yacht. Build time is approximately four weeks, depending upon customization and current orders.
At www.boatbookings.com, we are here to help you plan your perfect luxury yachting holiday. We have a team of highly skilled professionals who are extremely knowledgeable in their destinations and will be able to help you bring together the yacht, the crew and all the other aspects that make your charter special.
At Boatbloggings we will keep you updated on the latest industry show releases, news and gossip in the yachting world. If you are looking for more information on yachts, charters and other yachting gossip, please become a fan and like our Facebook page to receive up to date information on our publications.Follow us on Twitter and Google Plus too.