Roman Abramovich no longer owns the largest luxury yacht in the world! He has held this title for over three years since the launch of ECLIPSE  – the 536ft goliath that has been prowling the world's oceans with impunity. However now a new contender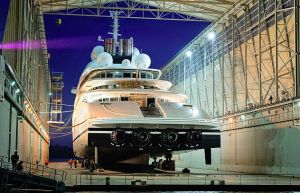 has come onto the scene and has smashed the record for the largest luxury yacht sailing today. She is called AZZAM and at a whopping 590ft long she blows ECLIPSE out of the water. Meaning 'dedication' in Arabic she has pushed boundaries in an industry that many thought had plateaued in terms of the length and luxury of the yachts.
Peter Lürssen, a Managing Partner of Lürssen proudly proclaimed: "When she will be delivered later this year, she will have been in build for only three years following one year of engineering." He goes on to add, "She truly represents another milestone in not only our history but yachting history as well."
Much of this building of AZZAM has been shrouded in mystery – it is reported that she is to be delivered to a Arabian owner in the autumn after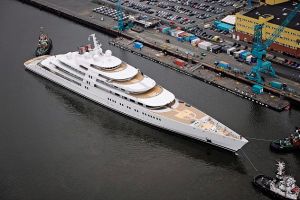 completing her sea trials. Names such as Alwaleed Bin Talal Alsaud, a member of the Saudi Royal family and Sheikh Khalifa Bin Zayed Al Nahyan, President of the United Arab Emirates have been put forward as potential recipients of this magnificent yacht but nothing is as yet confirmed.

It was designed by Nauta Yachts and constructed in Bremen by Lurssen under the watchful eye of lead engineer Mubarak Saad al Ahbabi. Although we know the interior was designed by Christophe Leoni, little else is know about the inside of this luxury yacht. However she is likely to have many of the extraordinary features that ECLPISE has – bullet proof glass, armor plated suites, swimming pools, helicopter pads, cinemas, submarines and a fantastic array of water toys to name just a few! However what we do know about the yacht is enough to say with certainty that this is one of the most fantastic  luxury super yachts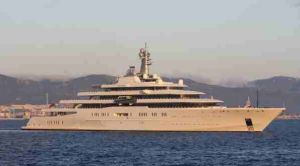 designed to date. Not only is AZZAM the largest luxury super yacht in the world but with 94,000 horse power behind her she is also capable of cruising at speeds of over 30 knots – 5 quicker than ECLIPSE despite being 500GT heavier! Combining this with a permanent crew of 50 you will be one of the most pampered and privileged guests to ever cruise the oceans!

At www.boatbookings.com, we welcome everyone from sailing professionals to novices and will help you at every step of the way to make your dreams a reality. We have a team of skilled professionals who are extremely knowledgeable in their destinations and will be able to help you with any questions you may have.
Watch this space for the latest industry show releases, news and gossip in the yachting world. If you liked the content on this page and our previous posts, please become a fan and like our Facebook page to receive up to date information on our publications. Follow us on Twitter and Google Plus too.