Mexico is one of the worlds most popular tourist destinations, thanks to its stunning beaches, crystal clear waters, family friendly resorts and fascinating history. Mexico's Mayan Riviera or Peninsula is one of our most exciting up and coming yachting destinations, providing guests with an unparalleled and unique experience. There are daily flights from both the US and Europe for reasonable fares, so we would recommend starting your charter in Cancún and heading towards the beautiful island of Isla Mujeres.
Isla Mujeres is located about 15 minutes off the coast of Cancún and is a welcome paradise from the hustle and bustle of the busy mainland. So what should you expect from this small island? The northern point of the island is the most popular center with fantastic beach clubs, hotels, restaurants and bars. Here you will find crystal clear waters and great swimming spots. Thanks to the natural beauty of the reef, the water is simply stunning and almost like a bath! We would recommend visiting Buho's beach bar and restaurant for your afternoon cocktails and it is the ultimate spot on the island to view the amazing sunset. If you fancy heading into town for a bite to eat, check out middle street and sample some authentic Mexican cuisine. The southern end of the island is less developed, so hire a golf cart and head to the zip line centre for an afternoon full of adrenalin and adventure! You will be mesmerized by the stunning views of both the Caribbean Sea and the Mexican mainland.
There is no better yacht to charter in the whole of the Mayan Riviera than the luxurious Sunseeker Predator 72 motor yacht, AGUILA. Accommodating up to 10 guests in 5 cabins, AGUILA is perfect for both friends and families who want to explore this beautiful coastline in style. She features an extensive range of water toys, including tenders, wave runners and kayaks, which will keep the whole family entertained for hours. We cannot recommend this yacht highly enough and we ensure you that she would make for an unforgettable charter experience!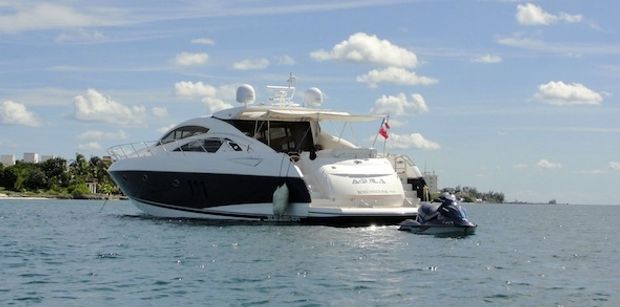 At Boatbookings, we welcome everyone from sailing professionals to complete novices and will help you at every step of the way to make your dreams a reality. We have a team of highly skilled professionals who are extremely
knowledgeable in their destinations and will be able to help you with any questions you may have.
Watch this space for the latest industry show releases, news and gossip in the yachting world. If you liked the content on this page and our previous posts, please become a fan and like our Facebook page to receive up to date information on our publications. Follow us on Twitter and Google Plus too.