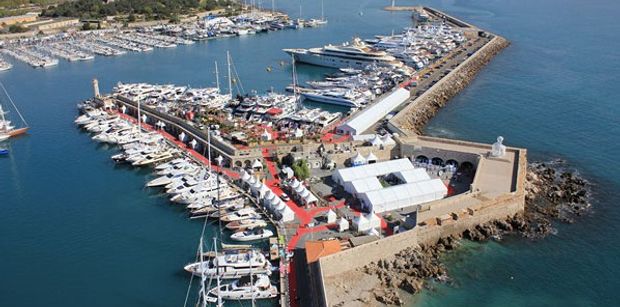 Taking place this year from April 18th – 21st, the Antibes Yacht Show is once again kicking off the yachting season in style. With 13,380 visitors attending last year from all around the world, the show is only getting bigger and better. It will lay down the marker for the year to come and is crucial for developing business relationships and for that all important networking in the industry.
This year the prerogative of the Antibes Yacht Show is to 'create optimal conditions for a pre-season market for yachts and super-yachts, giving buyers a unique opportunity to purchase or book their dream yacht for the upcoming summer season.' However, even if you are not looking at buying a yacht it is still a fascinating event to visit. There is everything from stands showing the newest in interior yacht design to the latest water toys and accessories available today. This year, the Antibes Yacht Show is focusing on yachts of 20 metres and over and so it is the perfect opportunity to go and oggle, admire and appreciate some of the best and biggest yachts the industry has to offer!
This year bidders have already registered in numbers for the auction that is taking place on Saturday 20th April, why not go down and see how much some of the mega yachts are sold for! On auction this year is:
the 253-foot (77-meter) Lone Ranger
the 180-foot (55-meter) Turquoise
the 115-foot (35-meter) Paradigm
the 98-foot (30-meter) Matanthar
the 85-foot (26-meter) Nick of Time
a Pershing 76 called Elixir
As always it is taking place in "Quai des Milliardaires" – offering unique facilities and the largest capacity for super-yachts in Europe. Antibes itself is both an ancient Greek and Roman fortified town, originally  the only large town between Italy and
Marseille and today a  bustling French Riviera port town and yachting center that offers a bit of everything to the visitor.
For more information on Antibes or for chartering a yacht on the French Riviera see here! At Boatbookings.com, we are constantly trying
to improve in every department. Whether it is discovering new yachts available for charter, getting to know a crew or exploring our charter destinations, we strive to be the very best so that we can pass on our valuable experience to our clients. Our expertise, professionalism, guidance and willingness to go the extra mile ensures that our customers have the very best time possible on their luxury yacht charter!
Watch this space for the latest industry show releases, news and gossip in the yachting world. If you liked the content on this page and our previous posts, please become a fan and like our Facebook page to receive up to date information on our publications. Follow us on Twitter and Google Plus too.