Are you interested in exploring the French and Italian Riviera? The best way to explore the highlights of these beautiful coasts is by boat – no longer held up by traffic jams, when you're out at sea you can just cruise on by. If you are looking to charter a yacht, a popular choice among the Boatbookings team is WILD THYME, an impressive Benetti Classic 120.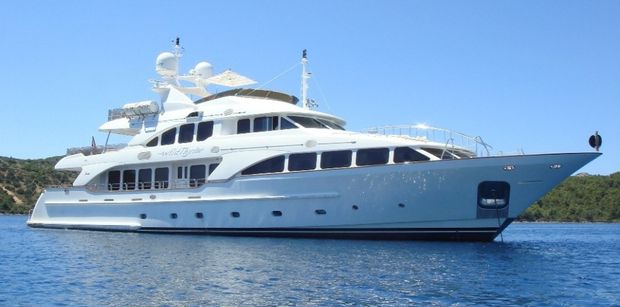 Accommodating up to 10 guests in 5 cabins, WILD THYME is available to charter at 105,000 € per week. With 3 double cabins and two twin cabins which are all en suite, the interior offers the utmost in luxury and glamour. With marble bathrooms and gorgeous furnishings, where better to get a good night's sleep? With a crew of 7, who are lead by the experienced Captain Peter van Houweninge, they will ensure that your every need is met, and their service goes beyond expectations.
If you think the interiors are luxurious, the deck space is just as impressive! Offering opportunities for al fresco dining on multiple deck levels, and a bar on the fly bridge you will be spoilt for choice as to where you want to enjoy a meal or drink with your friends. With ample sun loungers and a jacuzzi, relax and enjoy the sun while enjoying the beautiful views that the Riviera has to offer.
At www.boatbookings.com, we welcome everyone from sailing professionals to complete novices and will help you at every step of the way to make your dreams a reality. We have a team of highly skilled professionals who are extremely knowledgeable in their destinations and will be able to help you with any questions you may have.
Watch this space for the latest industry show releases, news and gossip in the yachting world. If you liked the content on this page and our previous posts, please become a fan and like our Facebook page to receive up to date information on our publications. Follow us on Twitter and Google Plus too.