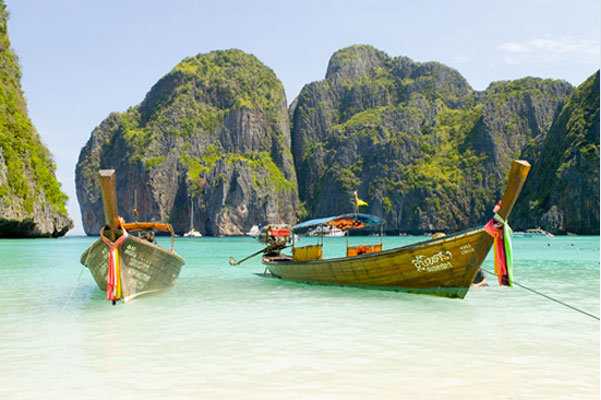 Are you fed up of going to the same destination every year? Are you looking to be inspired with new exciting destinations to spend your vacations? At Boatbloggings.com, we like to help you think outside of the box and provide inspiration for your travels, no matter whether you are looking for an adrenalin packed adventure holiday or a relaxing one. With many people choosing Europe or the Caribbean for the majority of their holidays, we have put our heads together to suggest alternative destinations, where you will find all of the same luxuries without the crowds. We would recommend the Seychelles for sailing and catamaran charters, as well as the Maldives and Thailand. If you are looking for something a little different and further afield, have you thought about visiting French Polynesia and Fiji?
No matter whether you are a complete novice or an advanced sailor, we have the right yacht for you. One of our most popular crewed monohulls is this Jeanneau 494, captained by the experienced Steele, whose expertise on the local area makes for an unforgettable charter experience. You may be thinking that chartering a yacht in Fiji will be out of your budget but this yacht will compare to any high end hotel and provides extra space, comfort and privacy for all guests on board. Her 3 cabins makes this an idea choice for family adventures around one of the most beautiful parts of the world.
Are you still not convinced that this yacht is for you? We're convinced that when you read the following review, you won't have any more doubts!
"Hi Kevin, We had a fabulous trip that exceeded our every expectation. I cannot emphasize enough what an amazing time we had. Steele took care of all the planning, fed us amazing vegetarian meals, and ensured that we had ample snorkeling, sailing, secluded beaches to walk on, wine & beer, and far too much food. I gained two pounds even though we swam at least two hours a day. Steele keeps an exceptionally clean and well organized boat, and his cautious approach to sailing and navigation filled us with confidence and left us with nothing to worry or fret over. Each day was a carefree, wondrous adventure. The pace was never rushed or hectic while also never being boring or too slow. Again testament Steele`s ability to read his guest`s moods and tailor the trip to their desires. The Insight we now have is how critical a role finding the right crew makes. Steele, Nick, and Lisa are wonderfully fun, witty, and caring individuals. They really worked hard to tailor the itinerary to fit our interests. Given the inherent proximity a sailing vessel imposes, it is critical that you enjoy the company of everyone onboard. In retrospect, having the opportunity to meet and get to know Steele, Nick, and Lisa was the best part of the entire trip. These are the kind of people you desperately want as friends and we look forward to sailing with them again. The only thing I would change is the picture Boatbookings has on it`s website for the boat. I would encourage Steele to send you a picture of the boat under sail with an island in the background. I know it shouldn`t matter but I think seeing the boat in an idyllic setting helps people better envision their vacation. Perhaps multiple pictures. D and I would also like to thank you Kevin for setting us up with such a wonderful crew in an idyllic location on such short notice."
Whether you are looking for the best places to snorkel, to go fishing or to relax, Steele and your broker will do everything in their power to help you get the most from your vacation.
Have you never chartered before? At  www.boatbookings.com, we welcome everyone from sailing professionals to complete novices and will help you at every step of the way to make your dreams a reality. We have a team of highly skilled professionals who are extremely knowledgeable in their destinations and will be able to help you with any questions you may have.
Watch this space for the latest industry show releases, news and gossip in the yachting world. If you liked the content on this page and our previous posts, please become a fan and like our Facebook page to receive up to date information on our publications.
Follow us on Twitter and Google Plus too!