With our Managing Director, Capucine de Vallée and Charter Director, Mimi Andain at the 2012 Antigua yacht show, inspecting the finest boats in the market, they told us about  LADY ALLIAURA, a Privilege 75 Catamaran which they ranked as one of their top 3 favourite catamarans from Day 1 of the show. They were very complimentary about the food that they were served on board, made by LADY ALLIAURA's Italian chef; this included home-made bread and cupcakes, and the latter made us start thinking creatively…Boating Baking!
Cupcakes are fast becoming a great power in the culinary world; it makes sense that the luxury yachts are going to start serving them on board. If you're looking to charter a yacht as part of a celebration, whether a birthday, anniversary or wedding, being able to serve mini celebration cakes on board is fantastic! So, to get the process started,
we have had a look around for nautical and yacht themed baking treats.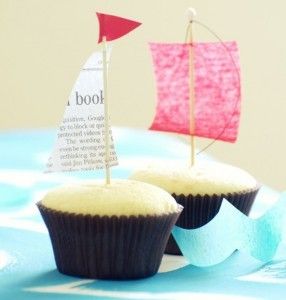 So, if you're looking to charter a luxury yacht with us and want something to get you excited, here is a simple recipe to make cupcakes:
100g caster sugar
100g unsalted butter
100g self raising flour
2 eggs
1/2 tsp vanilla essence
Preheat the oven to 180 degrees C, line a cupcake tray with cases
Cream the caster sugar and butter, until light and fluffy.
Whisk the eggs in a separate bowl, then add gradually to sugar and butter, making sure they are mixed in well
Fold in the flour
Divide between the cupcake cases.
Bake in the oven for 20 minutes, or until they are springy to the touch
For the buttercream icing:
250g icing sugar
80g unsalted butter at room temperature
25ml milk
A few drops of vanilla essence
Mix together  the icing sugar and butter (carefully!)
Gradually mix in the milk and vanilla essence, here you can add food colouring if you want (preferably blue to match the nautical theme!)
Ice your cakes!
If you would like to receive more information with regards to booking your luxury 2013 charter yacht, please enquire through our website, www.boatbookings.com, where one of our Charter Specialists will be happy to help you plan the experience of a lifetime. You can also send your charter enquiries to [email protected], and one of the team will get back to you shortly with some proposals.
Watch this space for the latest industry show releases, news and gossip in the yachting world. If you liked the content on this page and our previous posts, please become a fan and like our Facebook page to receive up to date information on our publications.