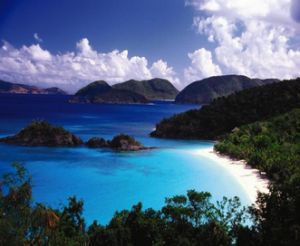 St Thomas is one of the most popular destinations to begin a luxury yacht charter in the Caribbean.  As it is part of the USA, the island is well connected with the US mainland, making it the perfect place to start exploring both the US Virgin Islands and the British Virgin Islands.
Charlotte Amalie, the largest city and capital of the USVI, is home to more than half of the island's 51,000 residents. The city is famous for its deep-water harbor that was previously home to many pirates but is now a popular destination for cruise ships and charter yachts. Cyril E. King Airport, just outside the city, is connected to numerous destinations along the east coast of the United States.
Charlotte Amalie lies at the base of several steep hills, with specially constructed walkways leading up the hillsides of Government Hill. The 99 Steps is the most famous of these walkways. Built in the 18th century using bricks sent over from Denmark, this trail offers panoramic views over the harbour in St Thomas and of the stunning Caribbean scenery. It can be found between Government House and Hotel 1829.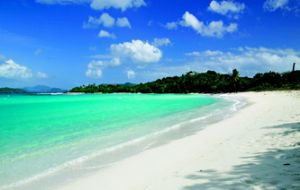 St. Thomas is a sport-lovers paradise. The beautiful crystal-clear and turquoise waters surrounding the island are perfect for snorkeling, scuba diving, windsurfing and waterskiing (just to name a few!), while the renowned Mahogany Run Golf Course attracts thousands of visitors each year.
St Thomas also offers miles of white sandy beaches, perfect for those simply seeking rest and relaxation. Located on the North side of the island, the beach at Magens Bay stretches for nearly three quarters of a mile and is one of the most frequented tourist beach destinations on the island. It is thought that Sir Francis Drake used Magens Bay as an anchorage while he was waiting for other ships to ransack.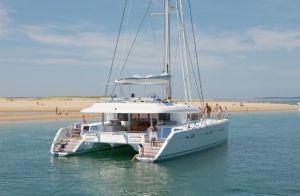 One of our favourite charters on offer in the Caribbean is BARBUDA BELLE, a lagoon 620 crewed catamaran with accommodation for 10 guests in five ensuite cabins. BARBUDA BELLE offers a wide range of water toys and is an ideal for families and friends. She was recently chosen as one of our top 10 catamarans at the 2012 BVI Yacht Show.
For more information on yachts available in the US Virgin Islands, please have a look at our St Thomas Yacht Charter Overview or email us at [email protected].