Virgin Gorda is the third largest and the second most populated of the British Virgin Islands. The island is a well-known destination for romantic getaways and for relaxing holidays with friends and family. Christopher Columbus is said to have named the island "The Fat Virgin" because its profile on the horizon looked like a fat woman lying on her side. Whether this is true is still open for some debate.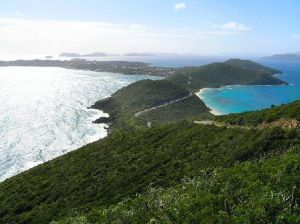 The population of Virgin Gorda was only about 600 when American venture capitalist Laurence Rockefeller constructed the Rosewood Little Dix Bay resort in 1964. The resort is credited with establishing the tourism industry on the island, whose population now stands at over 3,200. Rosewood Little Dix Bay is a 4-diamond resort offering luxury villas and suites, an award winning spa and its own spectacular bay and beach. It is located near Spanish Town, the island's capital city.
Although the pace of life can be slow on Virgin Gorda, the island provides the ideal blend of stunning scenery, good restaurants and plenty of activities and tourist attractions for those who have had enough of sunbathing on the beautiful white beaches.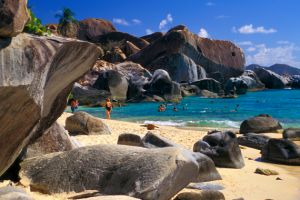 The giant granite rock formations of the Baths, found in the south-west of the Island, are the biggest tourist attraction in the BVI. The rock pools and secret beaches found here are fascinating to explore and show evidence of the island's volcanic origins.
This protected area also includes Devil's Bay, a horseshoe shaped bay that is a 15-minute hike from the top of the Baths. Alternatively, hikers can take a second, more challenging path that involves climbing a series of ladders that scale the boulders. This is the perfect location for swimming, snorkeling and unwinding on some of the most beautiful beaches in the Caribbean.
Established in 1974, the 265-acre Gorda Peak National Park is also extremely popular. The park, which is the perfect example of Caribbean dry forest, contains a path leading up to the island's highest point of 1,370 feet. Here you will find a wide variety of indigenous and exotic plants and an observation tower that offers panoramic views of some of the surrounding islands.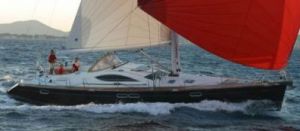 One yacht that is perfect for a romantic getaway in Virgin Gorda is the stunning Sun Odyssey 54 DS SAYANG. This crewed sailing yacht is hugely popular for honeymoon charters and ideal for sailing vacations and holidays around the Virgin Islands.
Please have a look at the 7-day BVI sailing itinerary on our website. If you would like some advice and help in planning a trip to the BVI, please send us an email to [email protected], where one of our Brokers would be delighted to assist you.