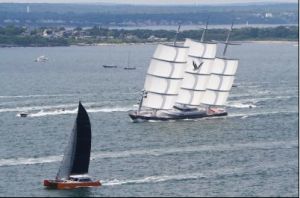 The Maxi Yachts that started on July 3 from Newport, R.I. to The Lizard in southeast England have been making fantastic progress. The yachts are all opting for the direct route and maximizing speed. Rambler 100, the Juan Kouyoumdjian-designed 100' canting keel maxi, is averaging close to 20 knots and predicted to finish on the 10th of July. This will set an exceptional benchmark for a transatlantic crossing.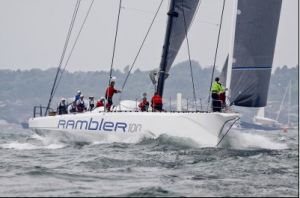 Rambler 100 is closely competing with PUMA's Mar Mostro.  PUMA has taken up a slightly more northerly position however, the Point Alpha ice gate is looming and the Volvo 70 may need to alter course towards the east to leave the mark of the course to port.  Nearly one hundred miles behind Rambler 100, ICAP Leopard is south of the rhumb line and enjoying better breeze than the two rivals in front.
The young Oakcliff All American Offshore Team, racing aboard the Reichel Pugh-designed Vanquish, are thrilled with the experience, and opportunity and are managing to hold their own rather well despite the fiercely sophisticated competition.
In IRC Class Two, Jazz, is the frontrunner and the Cookson 50 has altered course north, aiming for a low-pressure system. This move north also avoids an area of little wind to the south that the German Rogers 46s, Shakti and Varuna, have been unable to take.
The IRC Class Three lead is maintained by Zaraffa. Ambersail's move south saw the Lithuanian crew make up some ground but  ahead lies an area of little wind and they will need to move sideways to the northto get into pressure.
In IRC Class Four, Carina has given a remarkable performance but their competition has most definitely caught up some miles.  Carina chose a southerly route, while the Army Sailing Association's British Soldier, among others, stayed to the north. British Soldier has advanced 30 miles on Carina, but the American team is still over 170 miles ahead.
Ned Collier-Wakefield's (Oxford, U.K.) Concise 2 is currently 60 miles ahead of Dragon, skippered by Mike Hennessy (Mystic, Conn.).  The two Class 40s have been enjoying some fast-reaching conditions and are now fully offshore many miles from land.
"Dragon passed the longitude of Point Alpha and now the next mark of the course is Lizard Point, a mere 1800 miles down the road," reported Hennessy in a message revealing his thoughts as they head out into the Atlantic.  "Funny enough, our entire race thus far has been within about 100 miles of land.  Now we are heading off into that big open space in between, the wild blue yonder.  See you on the other side."
For more information, yacht blogs and photos: https://www.transatlanticrace.org/
Visit this link to Charter Racing and Spectator Yachts