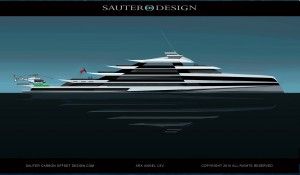 ARK ANGEL LSV (Life Support Vessel) is the newest mega project to leap from the drawing boards of Sauter Carbon Offset Design. Being faster and greener than any megayacht in her class are not her only accolades, ARK ANGEL has futuristic styling that sheaths an equally amazing interior with accommodations for 18 guests, 16 crew, and facilities that include a hydroponic farm and fishery.
ARK ANGEL LSV harnesses energy from a combination of renewable sources to achieve up to 100 percent reduction in fuel consumption and greenhouse gas emissions. ARK ANGEL LSV is encased in a solar cell exoskeleton, and derives equal power from her Motion Dampening Regeneration system. These renewable resources along with four Daimler Bluetec Turbo Compound DD16 diesel engines and the Auxiliary SkySail for wind power combine to produce energy enough to offset an estimated 5,000nm of cruising annually.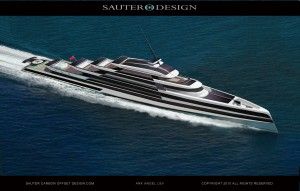 Energy sources combine with plug-in power sources to allow ARK ANGEL LSV to operate on a par with conventionally powered megayachts and provide guests with round the clock five star services.
The yacht is also equipped with equivalent amenities that include a voluminous aft deck pool and convenient helipad. Two Solar Hybrid Atlantic Guardian S Class 9.5m Tenders are available for shore excursions.
Richard Sauter, head of design commented "I consider the Ark Angel the Champion of Green Power, not because she can do 28 knots and cruise for up to 5,000 nautical miles Carbon Neutral, but because in leading the campaign for responsible yachting, she is challenging all comers."
LOA: 256 ft.
Beam: 32.8 ft.
Draft: 7.9 ft (50% load)
Engines: 4x 400kw Daimler Turbo Compound DD16 D/E
Power: 4,000kw divided into 3 electric CRP drives
Fuel Capacity: 30,000 l
Carbon Neutral cruising range at 14knts: 5,000nm.
Zero Carbon cruising range at 10knts: unlimited
Battery: Lithium ion 3Mwh. 24t
Fresh water: 20,000 l
Hull & decks: Carbon/Kevlar Composite
Superstructure: Aluminum
Please use this informative link to learn about Green Chartering for Low Carbon Emissions.