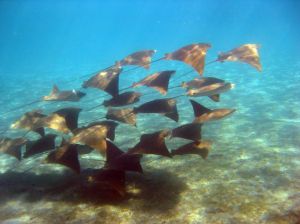 Palm Beach has a plethora of activities to offer yacht charter clients. Designer shops and gourmet restaurants line Worth Avenue, excellent museums, upscale marinas and the Blue Heron Bridge, which according to Mike Phelan, REEF (Reef Environmental Education Foundation) Expert surveyor, is a little known biological hotspot.
This is a top dive destination for sighting unusual species that can be added to your lifelist. Mike Phelan and two other REEF members often dive this site. The day before Thanksgiving, they were treated to quite a sight – a large school of Cownose Rays! This is a rare sighting in Florida, but it's just another day at the Blue Heron Bridge. Some of the more unusual and recent sightings include the Blackwing Searobin, Roughtail Ray, Northern Stargazer, Orangespotted Blenny, Polkadot Batfish, and the Chain Pipefish. In fact, the Blue Heron Bridge has over 282 species recorded in the REEF database and this number is on the rise.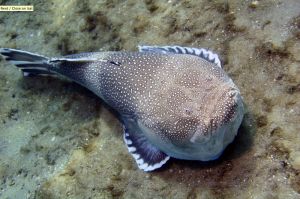 The dive site is located in Phil Foster County Park. Dives must be shore based and dive at high tides when depths range from 8 to 17 feet. Mark Phelan suggests that divers may combine their bridge dive with offshore diving in Jupiter to witness the winter Lemon shark aggregation, or in early summer for the active Loggerhead, Green and Leatherback turtle-nesting season.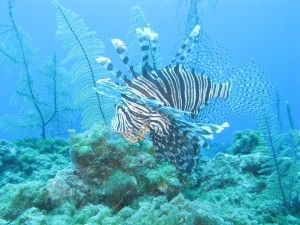 REEF is an active organization of divers and marine enthusiasts committed to ocean conservation. Their many projects include a lionfish research program. Lionfish are exquisitely beautiful but unfortunately an invasive species of voracious predators that pose a serious threat to the marine environment. In an effort to stop the rapidly expanding population, REEF has just published The Lionfish Cookbook, with the aim to make the fish a catch in high demand. The book makes a novel holiday gift for Atlantic and Caribbean divers, with proceeds that support marine conservation and lionfish research.
Photos by Mike Phelan, courtesy of REEF.org
Boatbookings.com has an extensive selection of yachts available for charter equipped with dive gear and dive masters onboard. Here are a couple of links to begin exploring the possibilities:  Florida and Bahamas Yacht Charter,  Caribbean Yacht Charter,  BVI Yacht Charter