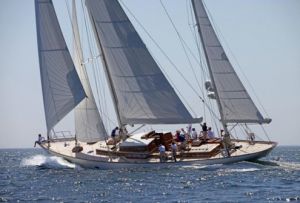 BEQUIA, recently launched from Brooklin Boat Yard, is a custom world-class sailing yacht with graceful sheerline, lengthy overhangs and the classic aesthetic of the 76' W-Class day-racing sloops. While her ambience recaptures a bygone era, her engineering and seaworthiness are state-of-the-art.
BEQUIA is designed by Robert Stephens and Paul Waring and represents the largest project to date for the design firm and the yard. BEQUIA is far more of a design achievement than immediately meets the eye. Perhaps the most difficult task in a build based on a classic hull is the integration of modern systems and amenities. In addition to these, BEQUIA features fully automated sail-handling with a hydraulic system running 27 different functions such as sail furling, winches and anchor deployment.
On deck, the elegant teak charthouse has a twofold purpose, containing chart table, electronics displays, autopilot controls and sufficient headroom for the crew to stand watch in comfort, it doubles as an elevated saloon where owners and guests can luxuriate surrounded by sweeping panoramic views.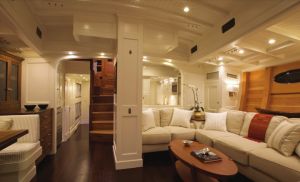 Onboard BEQUIA interiors are warm and welcoming, featuring an effective contrast of different woods to suggest a definition of spaces. The soothing creamy color palette of joinery and upholstery hints at retro but is essentially timeless. The luxury sailing yacht features a roomy double stateroom forward, a spacious owner's suite aft and a crew cabin.
BEQUIA, with all the charm of a traditional sailing yacht, is a thoroughly modern build. Constructed of cold-molded wood-epoxy, the yacht is extremely strong, lightweight and low maintenance. Designed to go the distance, BEQUIA is a transoceanic build that will transport owners, guests and crew in safety and with superb style.
Although BEQUIA is not available for charter, Boatbookings.com has an extensive listing of exquisite sailing yachts. See our guide to Chartering a Crewed Luxury Sailing Yacht including a full listing.