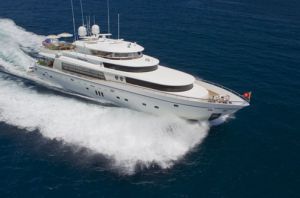 Symmetry, proportion and polish, DIAMOND GIRL is a luxury motor yacht that incorporates those factors important to the quality of any precious gem. This 103ft Johnson motor yacht is both supremely elegant yet teasingly playful. Boatbookings was invited onboard for an intimate look at what makes this a truly dazzling superyacht.
The exterior of DIAMOND GIRL is striking; sweeping curvilinear glass adds boldness to the bright white of her stacked decks. The imposing yacht is as powerful as she appears, equipped with twin MTU 16V2000 engines DIAMOND GIRL cruises comfortably at 19 knots, making her an ideal charter yacht for island hopping in the Caribbean.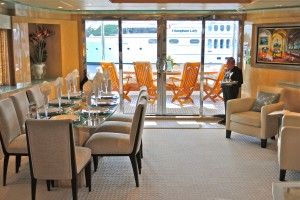 Entering DIAMOND GIRL a plush expanse of bone white carpet flows forward through the seamlessly integrated space. An innovative placement of the dining area allows guests to enjoy sweeping views off the aft deck. Spacious interiors are contemporary, understated and feel superbly well balanced.
What makes these elegant interiors really shimmer is the innovative use of aqua tinted glass that bands the perimeter of the ceiling and tops cabinet surfaces, not just in the main salon but also as a decorative motif throughout the yacht. Ocean waters reflect on the glass positioned above panoramic windows to create a magical play of light and motion that is mesmerizing.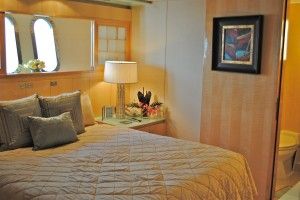 DIAMOND GIRL has four ensuite staterooms, state-of-the-art equipment, first-class amenities and a well-stocked toy chest including underwater scooters.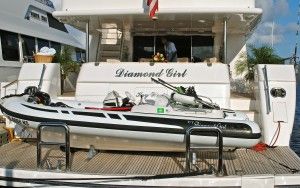 The highly skilled crew are charming, professional, yet like DIAMOND GIRL, are endowed with a lighthearted sense of playfulness and an endearing sense of humor.
DIAMOND GIRL has been selected for Boatbookings.com Preferred Yacht Program designed to showcase yachts that repeatedly provide clients with a superlative experience. For more information here are some helpful links: