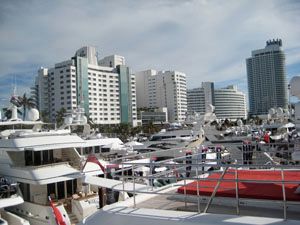 Boatbookings was at the Miami Boat Show yesterday in chilly weather, and saw plenty of excellent charter yachts. We also attended a captivating presentation about Cuba and their plans for building the yacht charter industry in the waters that Hemmingway loved so much.
Top yachts from the Miami Boat Show: We had a tour of ODESSA with the project manager at Christensen, and we think she is one amazing yacht!  She is a brand new (2009) 160'/49m luxury motor yacht, with 6 beautiful cabins.  The fit and finish is superb, and the decoration is contemporary, minimalist, using the finest woods (mainly walnut), silks and leathers. She is the talk of the show, and you can get complete details by contacting us for more information.
We also were impressed by the superb interior of the Trinity Yacht CARPE DIEM (150'/45.7m 5 cabin semi-displacement motor yacht) – with its white carpets accented with dark brown wood accents and trim.  Everything about the yacht works together perfectly, and delivers a feeling of class and relaxation.  Contact us for complete details.
For a complete update on news and hot yachts from the Miami Yacht Show, feel free to contact our Ft Laudersdale office at +1 954 584 0026.
Cuba! Ernest Hemmingway fell in love with Cuba – for its beautiful waters, sport fishing and carefree lifestyle.  There are movements afoot to rebuild Cuba as a major holiday and yachting destination, beginning with the construction of several marinas that will soon be able to better accommodate yachts of all sizes, including mega and super yachts. Cuba offers superb beaches, excellent deep sea fishing, amazing marine life, interesting history and architecture and the famous Cuban food and libations.