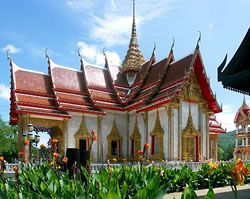 (The second in our series of where to Charter in 2009 to find fabulous destinations and value for money)
For those who have been to Thailand, it's always an unforgettable experience. The culture, cuisine, friendly people and beautiful scenery can be quite addictive.  Add a charter yacht to the experience, so you can easily reach deserted beaches, avoid the crowds, and see the amazing rock formations in Phang Nga Bay and the Andaman Sea, and you have one of the world's best possible holidays.
And in these tough times, the fact that the cost of living in Thailand is inexpensive compared to home, makes it one of our favorites for 2009.
The majority of charter yachts are based in Phuket, where we have a wide range of sailboats, catamarans and motor yachts for charter – that will quickly take you away from your day to day stress, into the magic of Thailand and the Andaman Sea.
There also other up and coming Thai destinations such as Koh Chang and Koh Samui. There are fewer charter yachts there, but that means even more undiscovered and pristine sailing grounds!!
To top it off, many of our charter operators and owners are offering amazing specials, throwing in free transfers, gourmet meals, wine, beer and thai massage!  If you're interested, please contact our SE Asia office for full details.
Editors note: All through the recent problems in Thailand, Phuket operated completely
normally. Flights were diverted via Singapore, the Kings Cup Regatta and
Phuket Boat Show went ahead as normal in early December, and not a single
charter was cancelled!