St. Barth's is decidedly a French island of only eight square miles. The food and wine are delicious and the sense of style and fashion, unmistakable. The island has been, for some time, a destination for those seeking both relaxation and sophistication in the Caribbean's true taste of the Mediterranean! Gustavia Harbor can now dock up to sixty yachts (200′ maximum) in the inner harbor with anchorages for another 100+ yachts in the outer harbor. The steep, mountainous island is home to gorgeous, unpopulated beaches, fine restaurants and fashionable shopping (but no golf courses). For twenty-two years, St. Barth's also hosts cultural events such as the annual Classical Music Festival which now has been expanded to include jazz and ballet.
Beaches on St Barth's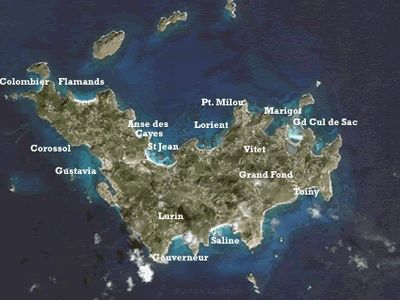 There are fourteen beaches on the island (see map above). Each has its own character, making the island fun to explore. All are white sand beaches, protected from ocean swells by a reef that rings the island. St Jean is divided by the Eden Rock Promontory and offers a number of restaurants and water sports. Saline is wide open and great for sunbathing. Colombier is remote, requiring either a half an hour walk on a nature path or approach by boat. The pristine beauty of this spot is worth the effort! (https://www.st-barths.com/beaches/index.html)
Dining
Many guests find that they while away their days at the beach, and spend their evenings at local restaurants. There is a wide range of choice from hip bars in the Port of Gustavia, to local beach restaurants serving Creole food, and sophisticated French gourmet restaurants overlooking the sea. A sampling includes:
Hip Bars
La Bete à  Z'Ailes in Gustavia
This lively bar and sushi/sashimi restaurant is in the center of Gustavia Harbor. Its name means œthe flying beast and it is named for the airplanes which occasionally pass overhead on their way to the airport on the other side of the island. It is a major spot to see and be seen while listening to good music and enjoying the view of the harbor.
Le Ti in Pointe Milou
A fun night spot where you may find yourself dancing on the tables after dinner until the wee hours of the morning.
Restaurants
La Vela in Gustavia
La Vela (œthe sail in Italian) is a fine Italian restaurant overlooking Gustavia harbor with homemade pastas and an upbeat atmosphere.
The Eden Rock Restaurants at the beach in St Jean
Two restaurants, The Sand Bar and On the Rocks, both offer style and fine dining.
Le Gaiac at Toiny
Le Gaiac is a classic, gourmet French restaurant in a spectacular Caribbean setting.
Le Bartolomeo at Grande Cul de Sac
A true French gastronomic restaurant, Le Bartolomeo features gourmet French dishes and fine wines as well as a piano bar. The chef is a native of southern France.
For more information on restaurants in St. Barth's check out:
St Barth's.com
SBH Online
Shopping
St. Barth's is also a duty free, shopper's paradise with shops selling clothes, jewelry, watches and shoes some of the best-known Italian and French designers in Gustavia and St Jean. The fashion style of the island is œcasual chic, but shops sell a full range of clothing and accessories.
Spa Treatments
For pampering and spa services, visitors can unwind at the Guanhani Spa. This spectacular Clarins spa opened at the Guanhani Hotel in 2004. It offers pure elegance and complete relaxation. Some of the open air treatment rooms overlook the sea.