7 Day Croatia and Montenegro Crewed Catamaran Itinerary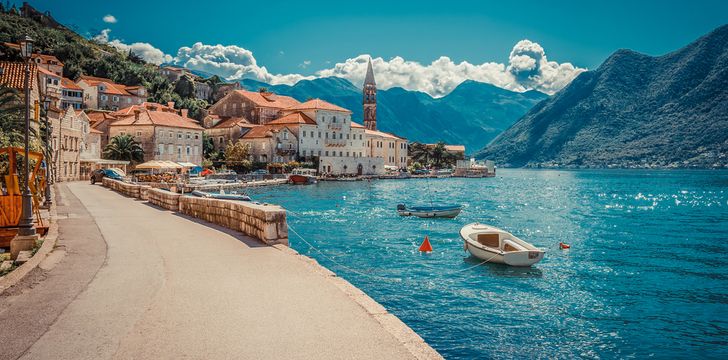 7 Day Montenegro and Croatia Crewed Catamaran Itinerary - Stunning Sailing throughout the Bay of Kotor and Dalmatian Islands
Montenegro and Croatia are two of our most recommended destinations for a crewed catamaran charter. Combining superb views, gourmet dining and historical towns, you are guaranteed excellent opportunities to create unforgettable memories and experiences. A luxury crewed catamaran will make your visit to the Adriatic even more enjoyable; it really is the perfect yacht type to sail around these idyllic villages in the summer sun. This itinerary can also be adapted for embarkations from Split and Trogir in Croatia - you will be closer to the Dalmatian islands and can therefore spend more time in each destination. 
Day 1: Kotor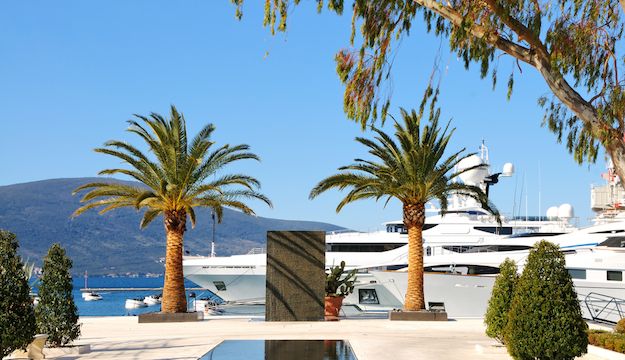 Board your crewed catamaran with cocktails and tapas at the ready to start your charter as you mean to go on! Set sail in the afternoon to test the waters on your catamaran and feel at ease with your crew. Drift along the cliff towards Herceg Novi and weather permitting stay on Mamula Island. Here, you will feel completely relaxed on the long summer evenings on your boat, or if you are looking for more action, discover the local town and soak up the atmosphere. Get in the midst of it all with a cold glass of wine and watch the world go by.
Day 2: Kotor to Cavtat Croatia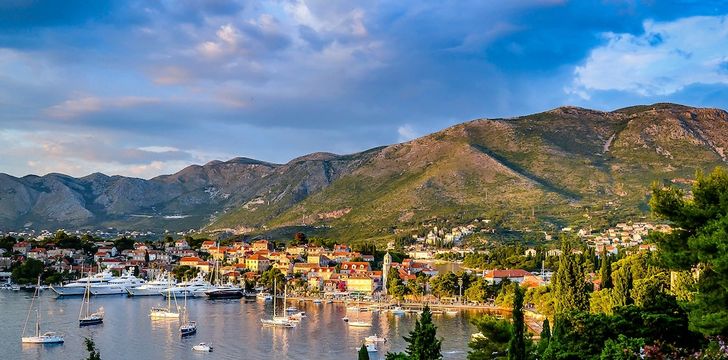 Enjoy the morning sail to Cavtat, feeling the wind in the sails as you bathe on the trampoline under the sun. Hop off the boat to go and explore the quaint town, stroll along the cliffs where on a clear day you have spectacular views of Dubrovnik. Cavtat has historical and lovely churches as well as stunning coastal scenery; it is a great spot to have a swim in in the sparkling blue sea and truly relax. For any shopaholics, you will be in your element with gorgeous silk production and embroidery, which is a local tradition and makes an unbeatable souvenir. 
Day 3: Dubrovnik to Sipan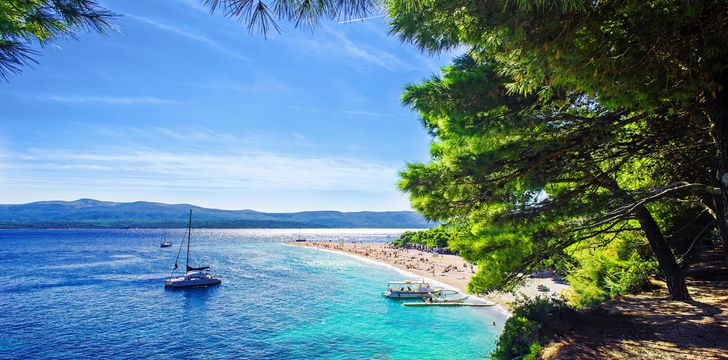 After a peaceful night's sleep, head ashore in Dubrovnik to discover this Venetian town. The beauty of this old town is breathtaking - the ancient city walls tell a story as you stroll alongside them. Stop for lunch at Restaurant 360 where you will find elegance and the finest cuisine with traditional Mediterranean flavours, complimented by an impressive wine cellar. True to its name, you will dine with a 360-degree view of the harbour where you can admire the colourful fishing boats. After lunch, sail to Sipan which will be the berth for the evening.
Day 4: Sipan to Mljet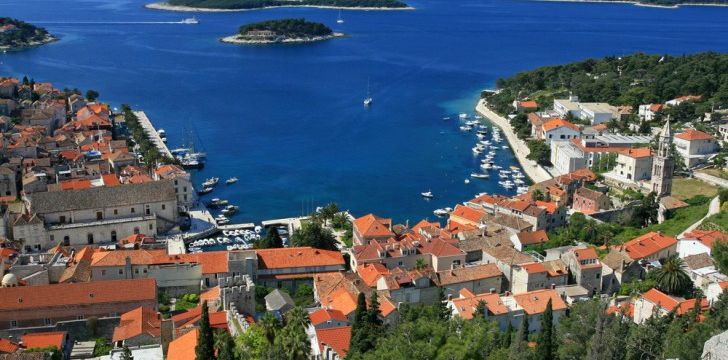 Today you will enjoy a whole day of delightful sailing! Put your feet up and plug your iPod in to cruise along in complete peace and tranquility. The end destination is Mljet but you also have the opportunity to dine in Procure. Mljet is a spectacular hotspot especially for any guests interested in wine, olives and a speciacily local goats cheese, as they are the traditional and renowned food on the islands. This unspoilt island is covered in luscious forest and is raved about for its two lakes, perfect for meandering around sunset. 
Day 5: Mljet to Korcula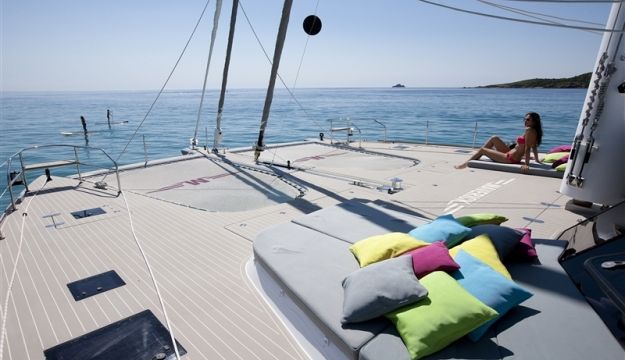 Enjoy a fresh breakfast on the aft deck, absorbing the stunning views and hearing nothing but nature! Find your favourite spot to lounge on your catamaran, as you set sail to the stunning island of Korcula before stopping for lunch in a secluded bay of your choice. You can spend the evening in the main town of Korcula, which is an unmissable destination on your catamaran charter. This island is not only one of the greenest but also is home to a myriad of vineyards, olive groves and quiet coves. The city is a typical medieval Dalmatian town with towers and red roofed houses, so saunter between the small streets and alleyways to truly experience the welcoming ambience.
Day 6: Korcula to Hvar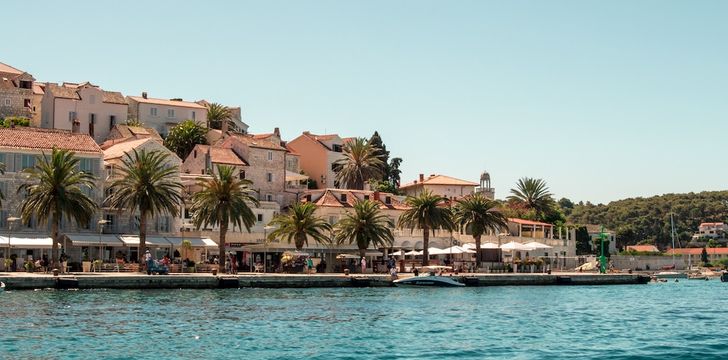 The sails go up in the morning as you start cruising to the legendary island of Hvar. On the way you can enjoy lunch in a bay around Scedro, an idyllic location to enjoy al fresco dining on your Croatia crewed catamaran. Continue your sail towards the main town of Hvar where you will be spending the night. If you want to stretch your legs and feel your feet on solid ground, you have to explore the historic town! This busy destination is lively in the evening with many good restaurants, street performances and a buzzing nightlife scene.
Day 7: Hvar to Split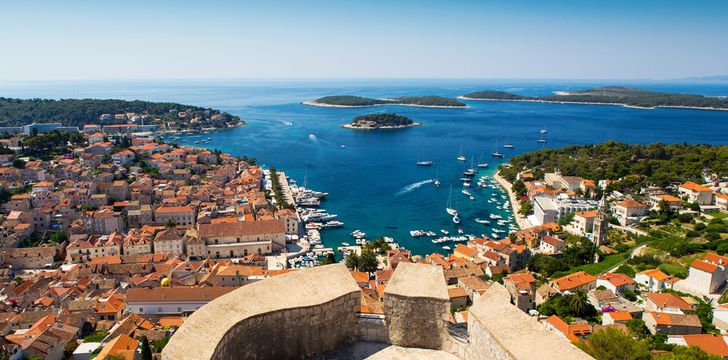 Say farewell to Hvar as you set sail north towards the islands of Brac and Salta, where you can enjoy your final lunch on board. These islands are truly spectacular, boasting charming architecture and characteristic landscapes which are certainly not to be missed. After your gourmet lunch, you will continue to sail to Split where you will arrive just in time to watch the glorious and romantic sunset. Split captures the right balance between a contemporary European city whilst maintaining its traditions. Wander through the thriving streets, soaking up the atmosphere and gaze at the impressive monuments before having your final night's sleep on your catamaran.
See our Catamarans Book Your Charter
Destinations in the Adriatic Sea: Dubrovnik | Split | Trogir | Montenegro | Slovenia
Other Articles of Interest
Charter destinations