Pozzuoli, Italy Yacht Charter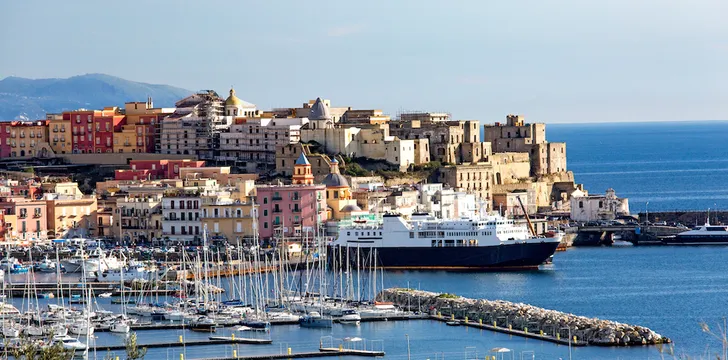 On the edge of the Pozzuoli was the first port to the Roman Empire and to this day has remained an important and attractive destination for the Italian people. A secret neighbor to Naples, it is a beautiful old town (founded in 530 BC!) that has been unspoiled by tourism and offers you a true taste of Italy.
Overlooking the attractive bay and the island of Capri, the town is colorful and pleasant and was once home of the elegant Hollywood actress Sofia Loren.
The rich historical tapestry of Pozzuoli has left landmark sights that must be visited. Of particular interest are the impressive Cathedral and the remains from the Flavian dynasty, a Roman Imperial Era, such as the Serapeo, a well-preserved ancient Flavian market place and the mighty Flavian amphitheater, third largest in Italy which is famous for its large underground caverns. If you're feeling particularly adventurous, nearby is the Solfatara, a fascinating volcanic phenomenon, whereby a fumarole in the Earth's surface emits sulfurous gases out in large jets like geysers.
Pozzuoli is close to Naples, the islands of Capri, Ischia and Procida and the Amalfi Coast for a superb holiday cruising this beautiful coastline.
It is also close to the captivating sights of Pompeii, Herculaneum and Mount Vesuvius where the explosion of the volcano in AD 79 led to the destruction and yet preservation of the two towns and their inhabitants. With so much to offer in such a small locality, your charter holiday will easily please all on board, the passions of Italy; cuisine, culture, and life are in abundance here.
Other Articles of Interest
Charter destinations