The Monaco Yacht Show - see the World's Greatest Charter Yachts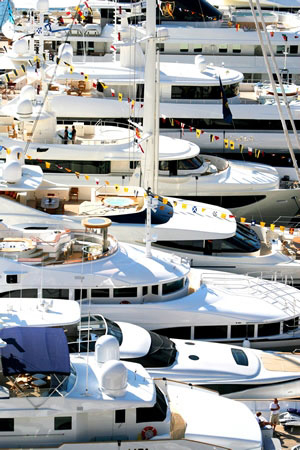 The Monaco Yacht Show is the world's premier showcase for Super Yachts. Every year in late September, the world's leading manufacturers, designers and brokers of Super Yachts show off the latest and greatest in Monaco.
With over 500 exhibitors at the show, each Shipyard, Design House and Yacht Brand promotes their latest creations and advancements in the art of super yacht building during this show, which is open to the public. Yachts ranging from 30 to 90 metres in length take over the whole of Port Hercules in Monaco, which makes for a breathtaking display of yacht building and yacht charter opportunities!
The Boatbookings team attends the Monaco Yacht Show each year and searches through the show for all the best yachts which are available for charter. We familiarise ourselves with the yacht's features, layout, décor, amenities, and, most importantly, the crew so that we know the yachts inside out when proposing them for your charter.
If you'd like to know all about what is hot for charter at the Monaco Yacht Show, just contact us and we will be happy discuss the show and the yachts with you! We can also arrange private tours of the show to help you determine which luxury yacht and crew best meets your needs. Take a look at our blog to see our 5 favourite super-yachts of this year's show. 
Other Articles of Interest
Charter destinations