Ibiza and Formentera Restaurant and Beach Club Guide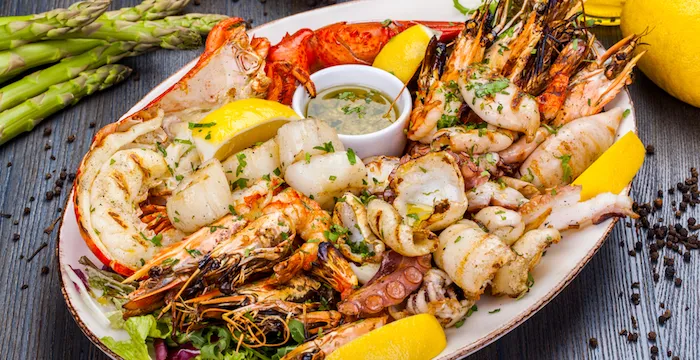 The Best Restaurants and Beach Clubs in Ibiza and Formentera - Discover Nikki Beach, Juan Y Andrea, Beso Beach, Sa Capella & Lío Ibiza
Today, Ibiza is a favoured yacht charter destination – due to its azure waters, beautiful islets, and gorgeous summer sunsets. However, due to the overwhelming amount of new restaurants and venues, it may become difficult to make reservations at the right place. We've created a guide to the best restaurants, which are frequented by locals and the international chic clientele. Most importantly, we've chosen restaurants that successfully embody the authentic Ibiza culture. Day charters in Ibiza are a great way to access the most amazing restaurants on the island!
Nikki Beach
This is the ultimate beach club if you are looking for something stylish, luxurious and exclusive. Located in Santa Eulalia, Ibiza, overlooking the crystal clear Balearic Sea, Nikki Beach is the place to go for a delicious cocktail and top-class entertainment. Their excellent restaurant serves a variety of international dishes including vibrant salads, luscious sushi and an impressive array of seafood. This lively beach club oozes lavish comfort and an opulent dining experience that attracts jet-setters from around the globe.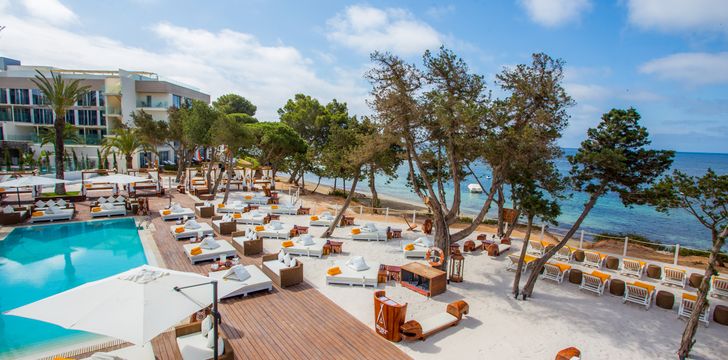 Beso Beach
Beso Beach, Formentera is everything you could ever wish for in a beach club. It's laidback vibes, chilled out music and idyllic views make it the ideal place to visit on your Mediterranean holiday. Its simple design with a palm-lined roof and natural materials create a rugged yet charming atmosphere. The food, made by their El Bulli renowned chef Carles Abellan, is centred on the simplicity of natural ingredients – make sure you try his Catalan hot dog that is infused with spicy international street-food flavours.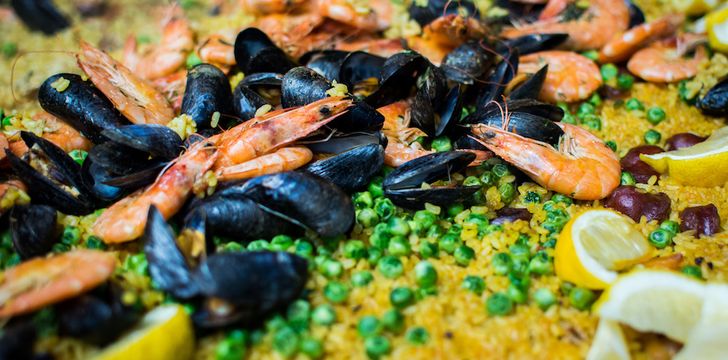 Es Xarcu
This picturesque restaurant is one of Ibiza's hidden gems. Located at the bottom of a winding pathway, on the breathtaking beach of Platja des Jondal, Es Xarcu is an understated, tranquil restaurant that delivers amazing Mediterranean flavours to those who have already discovered this secret paradise! They serve some outstanding fresh fish that is perfectly paired with their wonderfully light and refreshing wines, all enhanced by the spectacular sea views of the bay.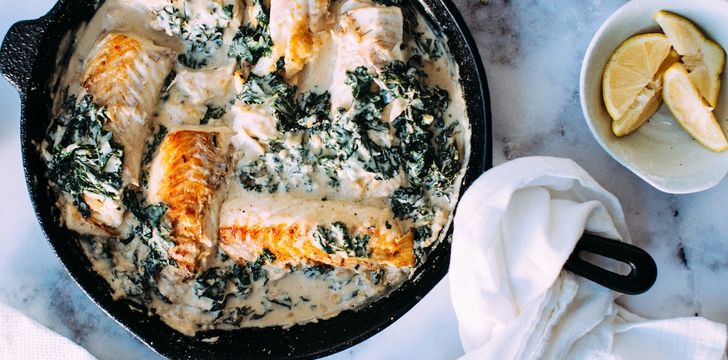 Juan Y Andrea
This famed family-owned restaurant was born from a love story in 1972 – Juan being a young fisherman who fell in love with Andrea, a Soria-native beauty. He would fish and she would cook, and soon, they created the beloved Juan Y Andrea restaurant to share their passion. Since then, it has matured into the go-to lunch spot for yacht charterers. Revel in the beautiful white sand beaches of Formentera, the great vibes of the bustling restaurant and delectable fresh seafood. Still caringly run by the family, the restaurant prides itself on its loyal customer base, impeccable hospitality, and their famous lobster paëlla!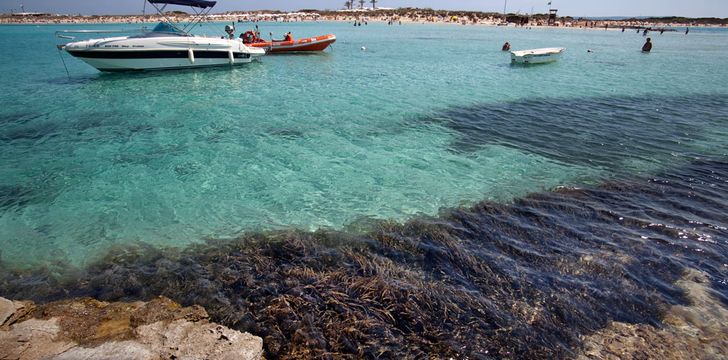 Amante Beach Club
Cosily nestled in a breath-taking cove, Amante Beach Club boasts unrivalled natural splendour in its rugged cliff setting. This three-tiered venue is perfect for a long, lazy lunch due to its panoramic views of the light blue sea and world-class distinguished service. Whether you want to go for breakfast, lunch or dinner, Amante will exceed all of your expectations with its contemporary Mediterranean cuisine. Why not enjoy the glorious Ibiza sunset, whilst savouring the freshest seafood?
If you are seeking unhindered privacy, be sure to reserve the Laurent Perrier Amante Table for two, where you will be catered for by your own private waiter. Feel as if you are alone on the cliff, and enjoy the tranquil scene without any interruption.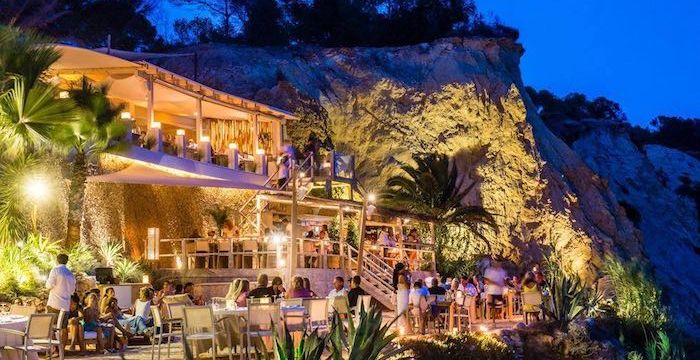 Bambuddha
If you want to take a break from all the delicious Mediterranean cuisine that the island has to offer, be sure to book a table at Bambuddha. Enter the hedonistic world of this restaurant, focused on staying avant-garde, for a truly unique dining experience. The food, inspired by a fusion of ancient oriental and contemporary tastes, is served based around the idea of Asian style sharing. With its oriental style and décor, the restaurant boasts intimate bars frequented by an in-vogue crowd. Bambuddha is the place to give in to your temptations - get carried away by its distinct menu options, offering a plethora of eastern delights!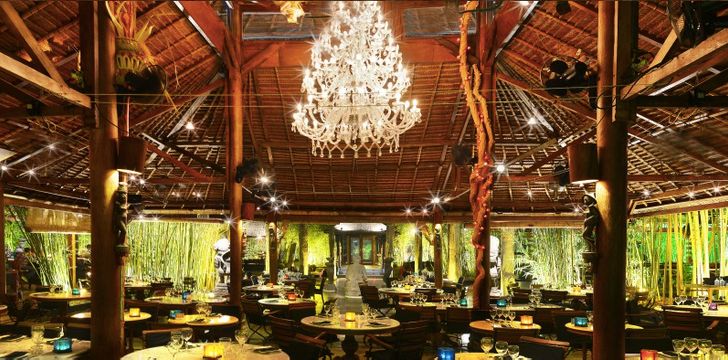 Sa Capella
Take a trip to Sa Capella, a restaurant nestled in the idyllic San Antonio hills. An Ibiza classic, this magical place is regularly frequented by locals and international jetsetters alike. Step into the 400-year old monastery, that has been refurbished into a beautiful restaurant. Let the romantic setting take you back in time to the more tranquil days of Ibiza. Meanwhile, allow chef Agostine Royal treat you to mouth-watering delicacies, such as their chateaubriand (that is prepared right at your table!) Moreover, the restaurant is adorned by a beautiful view, making it a great place to go and watch the sunset.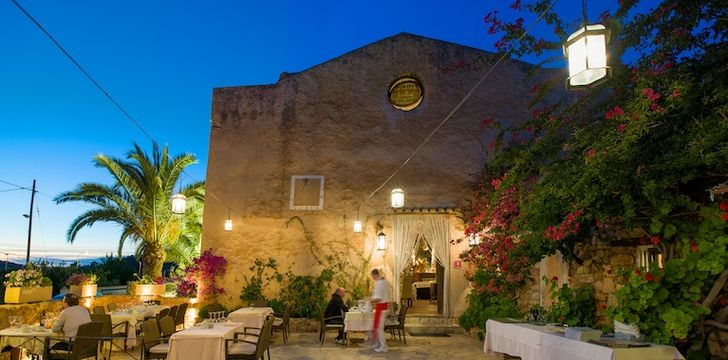 Vi-Cool by Sergi Arola: Aguas de Ibiza Lifestyle & Spa Hotel
Indulge yourself in al fresco dining on the top floor of the famous Aguas De Ibiza eco-luxe hotel. This formal dining venue has a truly five-star ambience. Complemented by celebrity Chef Sergi Arola's cooking (possessing 2 Michelin stars), Vi-Cool has become the new place to be. Be sure to allow the sommelier, Daniel Poveda, to select the finest wine to go with your dinner. The menu is comprised of shareable foods, with a modern twist on traditional tapas. A truly pioneering type of cuisine.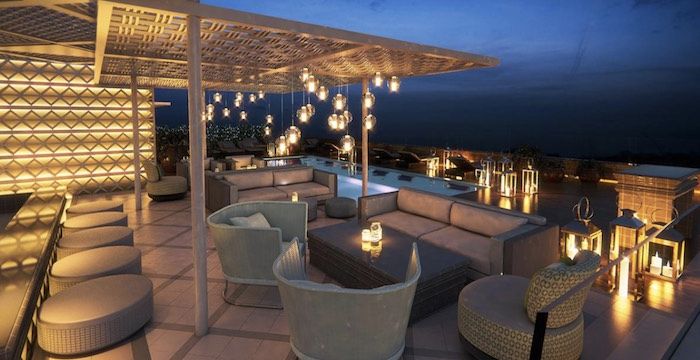 Lío Ibiza
This Pacha owned restaurant is the perfect place to start a night – famous for its 'mischievous nights' and 'elegant naughtiness,' Lío never fails to impress. Spend time watching its kaleidoscope of acrobats, contortionists and seductive dancers. Allow yourself to be entranced by the live DJ and live cabaret. Become a become a part of the show, whilst you dine on delicious food prepared from the freshest of ingredients. Lío doesn't simply provide a dinner and a show, but rather, it provides guests with a truly unique experience.  Its ideal location right next to the marina also makes it a popular choice amongst yacht charterers, and an eclectic, upscale clientele.
Other Articles of Interest
Charter destinations