The Vendée Globe, a single-handed yacht race around the world, was won yesterday by Francois Gabart. The race starts in the Vendée department in France, and the course heads southwards down the Atlantic and past the Cape of Good Hope in South Africa. The sailors head clockwise around Antarctica, passing south of Australia and Chile, before returning to the starting point, at Les Sables d'Olonne in the Vendée.
The sailors are not allowed any assistance during the race, so work their way through the Southern Ocean alone, and far out of reach from any emergency response. In the 1996 – 1997 race one competitor, Gerry Roufs, was lost at sea. Many of the entrants retire throughout the race, as often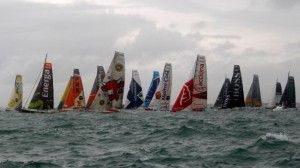 Hence, when Gabart won the 2012-2013 race, he made history. Not only is he the youngest winner of the Vendée Globe, he also completed the race in record breaking time. Sailing 24,000 nautical miles alone in 78 days, 2 hours and 16 minutes is more than impressive, especially as the previous record set in 2009 was 6 days 44 minutes longer! Armel Le Cleac'h, another French sailor finished behind Gabart 3 hours later, and Britain's Alex Thomson, of Hugo Boss, is set to finish in third place today, as the third Brit to claim a podium place in the Vendée. One of these Brits is Ellen MacArthur, who in 2004 claimed second place. This finish made her the fastest single-handed woman around the planet, and she is also the youngest entrant ever in the Vendée Globe.
Are you interested in trying your hand at sailing? At www.boatbookings.com, we welcome everyone from sailing professionals to complete novices and will help you at every step of the way to make your dreams a reality. We have a team of highly skilled professionals who are extremely knowledgeable in their destinations and will be able to help you with any questions you may have.
Watch this space for the latest industry show releases, news and gossip in the yachting world. If you liked the content on this page and our previous posts, please become a fan and like our Facebook page to receive up to date information on our publications. Follow us on Twitter and Google Plus too.