If you're looking to holiday in style this summer, choose SYNERGY, a fabulous Falcon 100. Whether you're looking for a cruise with family and friends, or a corporate entertainment venue, SYNGERY will provide. Available to charter from 28,000 € per week, she accommodates up to 11 guests in 5 cabins.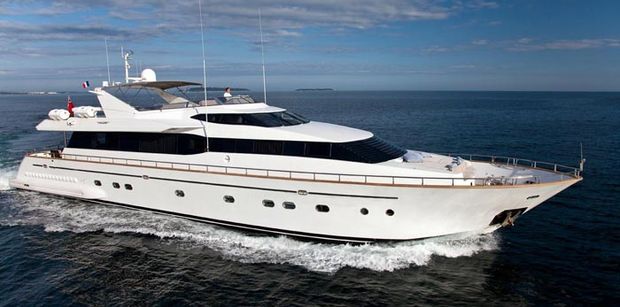 With a Captain who has been on the boat for the past 4 years, he definitely knows all there is to know about SYNERGY. He will also be able to take you to some of the best spots along the French Riviera, and if you want you can visit Monaco and Italy too. The yacht has been designed with comfort in mind. Not only is she spacious, with plenty of opportunities to relax both inside and out, she has also got a fantastic 'homely' feel to it. Decorated with a feel for Parisian casual-chic, she will give you the best welcome as you step on board. There is so much attention to detail in the decor, not only is she well furnished but the little things, such as the glasses and cutlery are also of the upmost standard. There is free wifi on board, so if you are in need of the internet, it's there for you – this also makes her great as a corporate venue, if you're looking to host a business meeting SYNERGY can hold 30 when docked.
Are you tempted to charter in the South of France? At www.boatbookings.com, we welcome everyone from sailing professionals to complete novices and will help you at every step of the way to make your dreams a reality. We have a team of highly skilled professionals who are extremely knowledgeable in their destinations and will be able to help you with any questions you may have.
Watch this space for the latest industry show releases, news and gossip in the yachting world. If you liked the content on this page and our previous posts, please become a fan and like our Facebook page to receive up to date information on our publications. Follow us on Twitter and Google Plus too.