Although the word 'yacht' has now come to be synonymous with the beautiful catamarans, sail boats and luxury motor boats we see cruising the French Riviera. Its original name came from the dutch word 'Jacht', meaning hunt and used to define the sleek and fast sailing vessels used by the dutch navy to pursue pirates in the shallow waters of the Low Countries. Later to become used to mean a vessel to transport important people, we're sure you'll feel in complete luxury on board FUNTIME – Sunseeker Predator 72 and MY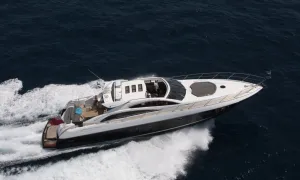 DREAM PRINCESS – Princess 62 which best combine the elements of this ancient heritage.
FUNTIME, the Sunseeker Predator 72 accommodates up to 6 guests in 3 cabins. Her sleek lines and breathtaking top speed convey the indulgent luxury you would expect from a yacht on the French Coast. With a flick of a switch you can also open the hard top transforming the boat and enabling you to truly appreciate the beauty of the French Riviera. There is no better way to explore the coast of France than on one of the many on board toys such as the jet ski!
MY DREAM PRINCESS, the Princess 62 – accommodates up to 8 guests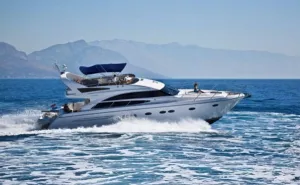 in 4 cabins and provides the perfect setting to entertain and host your guests with three separate setting areas, sunbeds, a barbeque and plenty of toys. Both of these yachts would make any trip along the French Riviera a pleasure and provides guests with the perfect yacht for a day trip.
At www.boatbookings.com, we welcome everyone from sailing professionals to complete novices and will help you at every step of the way to make your dreams a reality. We have a team of highly skilled professionals who are extremely knowledgeable in their destinations and will be able to help you with any questions you may have.
Watch this space for the latest industry show releases, news and gossip in the yachting world. If you liked the content on this page and our previous posts, please become a fan and like our Facebook page to receive up to date information on our publications. Follow us on Twitter and Google Plus too.