Now what better way to explore the fascinating federation of States that make up the United Arab Emirates than in your very own luxury yacht? Away from the heat and the dusty sand bowls, you can choose to port at your leisure. You can d
ip in and out, choosing the best there is to offer and then retreat to the clear blue waters and cool breezes that you will find in over 700 km of beautiful coast. You will be able to sample its fine dining, nightlife, overflowing malls as well as experience its traditional culture as much or as little as you want.
The United Arab Emirates is made up of  Abu Dhabi, Ajman, Dubai, Fujairah, Ras al-Khaimah, Sharjah, and Umm al-Quwain and they all provide fascinating destinations to charter a yacht. They offer a distinctive blend of traditional and modern. Their traditional Muslim culture and thousands of years of sailing heritage has combined with the modern technology of today to produce one of the most unique environments on earth. You can go from the Dubai fountains and Burj Khalifa (the tallest building in the world) to the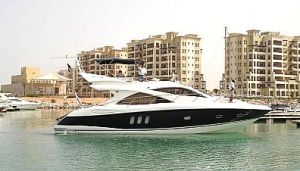 Bastakia Quarter and the Jumeirah Mosque – enough to suit everyone tastes.
Why not choose PEARL –  a superb Sunseeker Manhattan 50 that accommodates up to six people and is beautifully appointed. Her crew of two will look to your every need and their local knowledge will ensure you have the best possible charter.
At www.boatbookings.com, we welcome everyone from sailing professionals to complete novices and will help you at every step of theway to make your dreams a reality. We have a team of highly skilled professionals who are extremely knowledgeable in their destinations and will be able to help you with any questions you may have.
Watch this space for the latest industry show releases, news and gossip in the yachting world. If you liked the content on this page and our previous posts, please become a fan and like our Facebook page
to receive up to date information on our publications. Follow us on Twitter and Google Plus too.