Cruising down the River Thames in London in a speedboat comes with extreme style and class. Be James Bond for the day on your own private charter, whilst speeding along the Thames. We can offer you SHAKEN NOT STIRRED, the Sunseeker Superhawk 34 which features in the Bond film The World is Not Enough.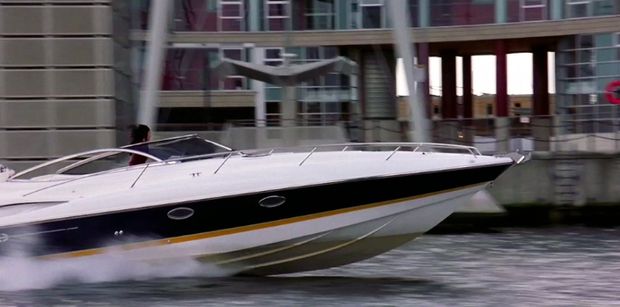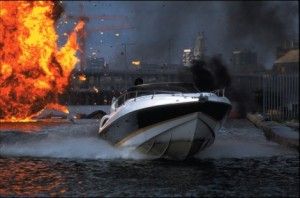 SHAKEN NOT STIRRED is driven by Cigar Girl in one of the longest pre-title sequences in the Bond series. This is the actual Sunseeker Superhawk which features in the chase along the Thames from MI6 building to the Millenium Dome, now more commonly known as the O2 Arena, passing many of the well-known sights that London has to offer along the river. She is available for you to charter for your own personal Bond experience from £1,900 per day. Fortunately for you, SHAKEN NOT STIRRED wasn't blown up as shown in the film – the delights of special effects! She is a fantastic Sunseeker with one cabin, and is perfect for an unforgettable day out along the Thames to see the best views that London has to offer.
A fan of Bond boats? Check out REGINA, a crewed Pruva sailing yacht, which featured in the most recent Bond film SKYFALL.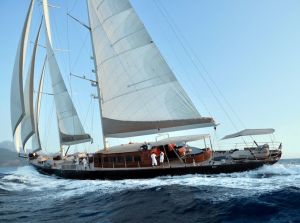 At www.boatbookings.com,we organize luxury yacht charters all around the world with our highly qualified team that has intimate knowledge of the destinations and yachts that are available. We leave no stone unturned in matching not just the yacht and the destination to your requirements but also the crew, itineraries and all other subtle aspects that comes together to create a charter of a life time!
Watch this space for the latest industry show releases, news and gossip in the yachting world. If you liked the content on this page and our previous posts, please become a fan and like our Facebook page to receive up to date information on our publications. Follow us on Twitter and Google Plus too.