One of the main things that interest many of us are the water toys available on board your luxury yacht. We know how important water toys are for some people, and they get more and more exciting and innovative as time goes on.

The Inflatable Climbing wall. This exciting design from Green Yachts means you can scale the side of your yacht! Not only is it fun for all ages, the climbing wall also provides some great exercise and challenges – with three different routes of varying difficulty, designed by professional rock climbers, you can put your climbing skills to the test. Furthermore, you don't even need to fuss around with harnesses and other things that may put you off on land. With this wall, there's nothing to worry about – if you fall, you just splash in to the sea!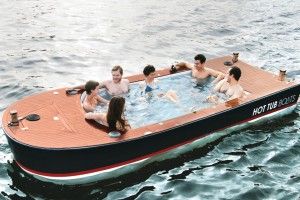 For those of you looking for something slightly more relaxing, how about a Hot Tub Boat? A revolutionary design, which indulges in luxury. A merge between the classic wooden boat and the radical addition of the jacuzzi, this idea is amazing! If there's no room on your yacht for a jacuzzi, why not have one on your tender instead?
If the water toys are a big deal for you on your charter, we have the yacht for you. O'MEGA, a Mitsubishi design, is one of the most luxurious yachts in the world. Accommodating up to 30 guests in 15 cabins, you can cruise the French Riviera in style. She has plenty to keep you entertained including water toys, spacious decks for sunbathing and a jacuzzi. Indulge in fine dining and a few cocktails in the evening, before retreating to beautifully furnished cabins to spend the night. Whether you want to be active or just chill out,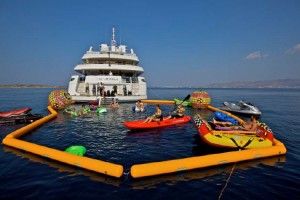 O'MEGA will meet your needs.
At www.boatbookings.com, we welcome everyone from sailing professionals to complete novices and will help you at every step of the way to make your dreams a reality. We have a team of highly skilled professionals who are extremely knowledgeable in their destinations and will be able to help you with any questions you may have.
Watch this space for the latest industry show releases, news and gossip in the yachting world. If you liked the content on this page and our previous posts, please become a fan and like our Facebook page to receive up to date information on our publications. Follow us on Twitter and Google Plus too.