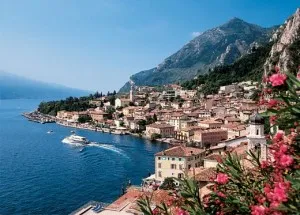 Lake Garda is the largest lake in Italy, spanning almost 52km in length, located just west of Verona. Sitting in a stunning alpine valley, the scenery and architecture are picturesque. The lake is well known for its water sports and outdoor activities. Whether you want to try your hand at kite surfing, wind surfing or mountain biking, the choices are endless! There are many towns spotted around Lake Garda, one being the fortified town of Sirmione, home to the Scaglier castle complete with a rare example of port fortification – the town is also famous for its thermal springs.
Given the size of Lake Garda and the many places to visit along its shore, the best way to take the chance to explore them is of course by boat. With so much water around, it is the most obvious option! This Riva Aquarama is a fantastic classic style speedboat,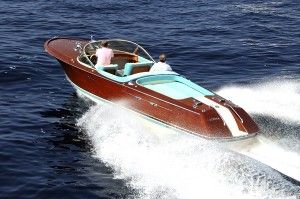 and has been likened to the Ferrari of the boat and yachting world. Carved from mahogany wood, the Riva Aquarama comes with its own unique vintage image. The Aquarama has featured in films such as GoldenEye, and was also driven by Jude Law in a recent Dior advert – the boat is clearly a stylish and popular choice! The Riva Aquarama is available to charter with skipper at €1,700 per day on Lake Garda.
At www.boatbookings.com, we are here to help you plan your perfect holiday. We have a team of highly skilled professionals who are extremely knowledgeable in their destinations and will be able to help you bring together the yacht, the crew and all the other aspects that make your charter special.
Watch this space for the latest industry show releases, news and gossip in the yachting world. If you liked the content on this page and our previous posts, please become a fan and like our Facebook page to receive up to date information on our publications. Follow us on Twitter and Google Plus too.