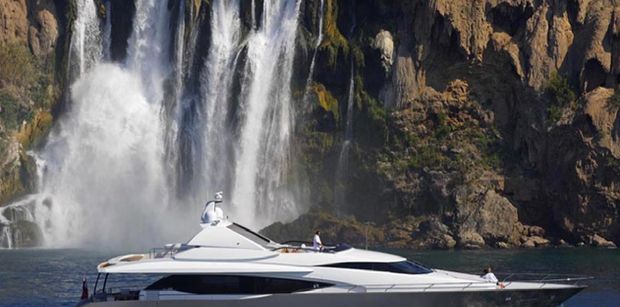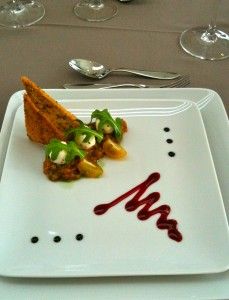 Chartering a crewed yacht is synonymous with luxury, lavishness and the very highest levels of customer service. Whether you are in the stunning British Virgin Islands, French Riviera or the Asia Pacific region, charter guests expect a professional crew who can perform every duty asked of them. In the 21st Century, food is a pertinent factor in the overall enjoyment of a holiday, whether it is on the water, at a restaurant or in a hotel. People are increasingly becoming 'foodies' and looking for spectacular gastronomic experiences. Thus, the food provided on charters has to live up to the very best restaurants, and often delivers much more!
Two of our brokers were recently invited for lunch on board crewed motor yacht QUANTUM, a stunning Peri Yachts 29m custom build, which can accommodate up to 8 guests in 2 VIP and 2 Twin cabins. She provides lavish accommodation and design features throughout, giving her a contemporary, yet elegant and sophisticated feel.
She has a brilliant Flybridge, which will accommodate your whole charter group, whether they want to socialise, sunbathe or simply take in the incredible vistas of the French Riviera. Based in Marina Baie des Anges, she is ideally located for week long charters to Corsica or west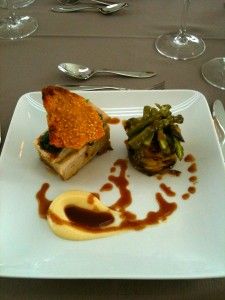 towards St Tropez and the magical Porquerolles Islands. Her crew of 4 are extremely professional, knowledgeable and attentive to their guests need. They have recently welcomed a new chef on board, who was chosen from over 70 applicants.
Our Menu:
* Canapés – served with Moët and Chandon Rose Champagne
* Smoked Aubergine Caviar with Marinated Mozzarella and Melba Toast
* Roast Belly of Pork with Crackling, Potato and Black Pudding Dauphinoise, Pomme Purée, Grilled Asparagus and a Red Wine Reduction
* Vanilla Cheesecake, Served with Tempered Chocolate, Sugarwork and Seasonal Fruits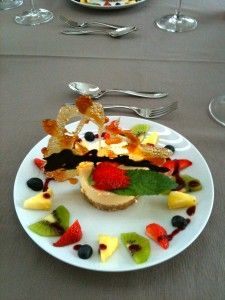 We had very high expectations of the chef, especially after we had heard that he was picked from 70 applicants. The food was delicious and each course was perfectly matched with a local wine. The French Riviera has so much choice when it comes to restaurants, but with food like this on your own luxury yacht charter, you will not want to go anywhere else!
QUANTUM is new to the charter market and given her performance, accommodation and excellent crew, we expect that she will be a very popular choice this summer for charters in the South of France. We recommend booking soon to avoid disappointment. If you have already booked your villa for this year, do not despair, as she is available for luxury day charters. Combine the very best of land and sea and experience the French Riviera like never before.
Check out our website, www.boatbookings.com, and start searching for your luxury yacht charter on the French Riviera for this summer. We have a team of highly skilled professionals who are extremely knowledgeable in their destinations and will be able to help you bring together the yacht, the crew and all the other aspects that make your charter special.
At Boatbloggings we will keep you updated on the latest industry show releases, news and gossip in the yachting world. If you are looking for more information on yachts, charters and other yachting gossip, please become a fan and like our Facebook page to receive up to date information on our publications. Follow us on Twitter and Google Plus too.